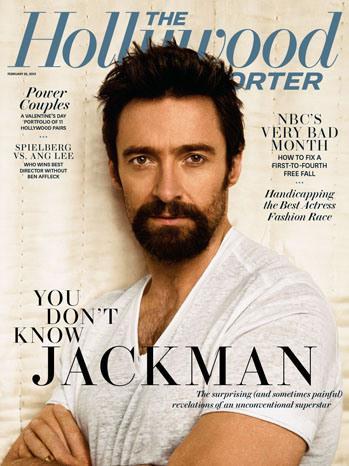 Ruven Afanador/Hollywood Reporter
-Hugh Jackman says those gay rumours have really started to piss off his wife. "Just recently, it bugs her…She goes: 'It's big. It's everywhere!'"
-It's been an extra pretentious day for James Franco (and that's saying something!). He bragged about his deep-throating abilities in a new, poetry-laden interview with Details (no, really), and then unveiled his new art exhibit called Gay Town, which features a bum-revealing Snow White with the words "K Stew" spray-painted on it.
-The blooper reel from season six of Gossip Girl has arrived. Blake Lively's D'Angelo crack was kind of priceless.
-Congrats to Steve Martin, who recently became at first-time dad at the age of 67.
-Emma Watson wears no makeup and still looks like a model. I wear makeup and still look like a bag of farts.
-Kelly Rowland cried after celebrating her birthday by lunching with Beyoncé, Solange and Jay-Z. Um, ok.
-Salon's review of Beyonce's HBO documentary says it makes her seem like a total control freak, which means I can't wait to watch it!
-Chloe Moretz looks great here. But then I remember that she's just 16 and it makes my stomach hurt a little.
-Here's a photo of Ryan Reynolds punching Scott Speedman. (Apparently, it's just for a movie. It better be, Ryan. IT BETTER BE!)
-Will Ferrell — err, Ted Vagina, made an appearance at last night's Lakers game.
-Here are a bunch of photos of Mila Kunis and Ashton Kutcher at the Lakers game, but I prefer the shot of Rebel Wilson being all attitude-y.
-Meanwhile, Ellen teased Mila about Ashton so much that she laughed so hard she cried.
-Charlie Sheen offered to pay for half of LiLo's amFAR gown. When the only person looking out for you is Charlie Sheen, you've failed life.
-Britney Spears looks amazing here. Ah, the power of retouching!
-What the hell is Peter Sarsgaard's doing in the new season of The Killing? Someone needs to fire his agent.
-Justin Bieber: great at making girls faint and taking off his shirt; not so great at spelling.
-Carrie Underwood has denied rumours of a feud with Taylor Swift, but Grammy staffers still made sure to seat them far apart.
-Aziz Ansari gets super serious about the "elusive and sadly ephemeral" nature of love in this surprisingly introspective interview.
-This year's Kids Choice Awards nominees include One Direction, Bridgit Mendler, Big Time Rush and more. They should really just rename it "The Award Show That Makes You Feel Really Old and Out of Touch."
-Like everyone else in the world, Katy Perry doesn't approve of Rihanna's relationship with Chris Brown.
-Chi Magazine has defended its decision to run those Kate Middleton baby pics, while U.K. channel ITV has apologized for showing the unblurred cover. But for some reason, no one seemed to notice that Star magazine is splashing the photos on this week's cover.
-Another day, another DMX arrest.
-Elisha Cuthbert has been named the hottest woman on TV by Maxim.
-Connie Britton's profile in the New York Times is amazing and full of things I didn't know about her. Did you know she came thisclose to playing Renee Zellweger's part in Jerry McGuire? And I love how she just refuses (REFUSES!) to say any lines on Nashville that reference her character's age. Tami Taylor forever!
-This "Women of LA" video is great. (And not just because of the Joel McHale cameo.)
-Vince Vaughn and Owen Wilson play a pair of Google workers in the new trailer for The Internship.