Guys, the wait is over. Yesterday, free agent center Dwight Howard, this year's top free agent on the market, is now off the market, as he announced on Twitter that he will play for the Houston Rockets next season. There are no details on the deal, but one thing that is positive is that Dwight will sign with the Rockets. Howard will be teaming up with the likes of the Rockets' All-Star guard James Harden and PG Jeremy Lin.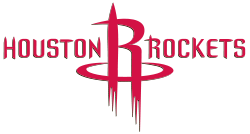 Houston Rockets logo (Photo credit: Wikipedia)
The Houston Rockets were one of the few suitors that tried to convince Howard to sign with them. Other suitors in the "Howard race" were the Atlanta Hawks, Dallas Mavericks, Golden State Warriors, and his former team, the Los Angeles Lakers. Also, there were rumors that Howard would like to play alongside of PG Chris Paul with the LA Clippers, but the idea of Paul and Howard being teammates just died on Friday. Now that Dwight Howard has made his decision, other teams that yearned to sign him have decided to go to a Plan B.
After the Warriors heard the news, the team went and made enough cap space to sign free agent F Andre Iguodala. The Mavs and the Hawks are attempting to make other moves to improve their respectful teams via free agency. The Lakers, however, took Howard's departure to heart.
Ever since the end of the 2012-2013 NBA season, the Lakers have been making a push to make Dwight Howard re-sign with the Lakers. The Lakers organization posted billboards and signs all over the city of Los Angeles. The signs were of Howard in his Laker uniform, including the phrase #STAYD12 worded on it. Also, Lakers GM Mitch Kupchak, guards Kobe Bryant and Steve Nash, and members of the Buss family went to talk to Howard to convince him to stay in LA. Bryant, a five time NBA champion with the Lakers, told Dwight Howard that (in my own words, not Kobe's) although he may not be the superstar, he will show him how it is done if he decides to re-sign. Obviously, that was not enough.
Some say that the Howard announcement left the Lakers, Kobe in particular, at disappointment for the now former Laker. When Dwight made his news on Twitter, Bryant and Lakers F/C Pau Gasol unfollowed their former teammate. Anger? I think so. Also, Kobe posted a pic of Gasol and himself, with the caption(s): "#vamos (Let's go!) #juntos (Together, united) #lakercorazon (Laker Heart) #vino (One of Bryant's many nicknames)."
I have no idea how Lakers fans are/have reacted, but I doubt if that poster is still up or fans aren't burning Dwight Howard jerseys. After all, I could be wrong. Lakers fans may not feel salty about Howard's departure because the LA Lakers is still technically Kobe's team. Although Kobe has been sidelined due to injury, Howard would still play second-fiddle to Kobe, particularly when Bryant makes his comeback from an critical injury he suffered last season right before the playoffs endured. Also, I just believed that Dwight did not want to deal with the pressure of being a star player for the Lakers. He would rather be the star guy of a Rockets team that could use a player that is talented on the inside.
Now, it is too early to tell if the Rockets are championship contenders just yet, but next season is looking good for this Houston team. Now that Dwight has made his choice of where he wants to play, he has no excuses.