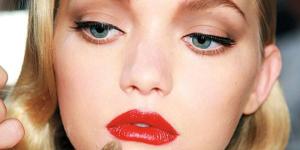 What is the magical power red lips charm women around the world? Confident, self-esteem or sex appeal?
Red colour lipstick has been a must-have item on women's dressing table for long time, and never been out. Wearing red lips is like showing the world that "I'm important, sexy, and classic."
The way to perfect red pout is simple. Before starting off the steps, prepare your lips by exfoliating them with clean toothbrush. Then, follow these four steps.
1. To keep your colour from feathering out, apply foundation all the way around your lips, to the outer edge.
2. Line your lips, starting from the inner crease.
3. Even out any mess by retracing the line
4. Completely fill in your lips with liner, then top with a matching lipstick. Clean up the edge with a cotton swab using small brush and some concealer to make the edges really crisp.
[youtube http://www.youtube.com/watch?v=4ltCw3VApMo]