Are you in the profession of planning weddings? Are you administering in wedding items or services required in the marriage? Or it is your lucky time to tie the knots with your beloved one finally? Whatever the situation is, all of them are revolving around weddings, and you sought to have website templates which will give you a strong presence on the web for attracting more customers to your business.
Is your wedding coming up? A wedding is one of the most memorable occasions in any person's life. Individuals who spend their lives planning about how their dream wedding is going to be because it is one day people will remember for as long as they live. Great, that's awesome - but planning it doesn't seem so simple.
It is always a complicated affair, and you need to inform too many people about the celebration. There will be mates asking for your love story, and the distant relatives calling on for directions to the venue repetitively and what not. There are several websites as well which are available to help out couples who don't have any idea on how to proceed with the planning. There are different websites which cater to the various aspects of the wedding.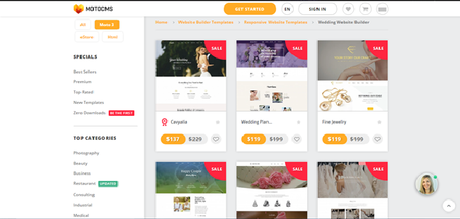 But what you really need is a wedding website would definitely be a lifesaver for you and putting all the information you need to tell your guests, and they need to know at one particular place. And MotoCMS's wedding website builder is the perfect tool to help you out.

How to Make a Wedding Website?
A site for the wedding should be more like a Dreamweaver that inspires the soon to be the married couple to conceive and come up with ideas for an outstanding wedding dream.
MotoCMS offers HTML / CSS templates with a unique wedding design. The website offers dozens of beautiful, fully customizable to build their wedding website. The layout is responsive and adapts to all devices, including smartphones and tablets.
Whether the wedding website is a traditional Indian one or the conventional western ones, the best way to create a good website is using a website builder. Not because it reduces the costs of hiring a web agency but the creative designs and easy to download high-end customization tools, developing the site become simple. One such good reliable Website Builder is the MotoCMS and the predesigned templates that you can design with it.
In this article, I have taken the liberty to enlighten you with some of the best responsive MotoCMS's wedding website builder templates for your special day. Those templates are perfect for using in wedding purposes such as wedding planner, photography wedding page, wedding agency, personal wedding page, invitation wedding page, pre-wedding page and more.

The design of those templates contains fully-fledged custom pages for events, RSPV, photo galleries, brides and groomsman's, wedding location, and countdowns for event dates. The model templates include beautiful fonts and minimalistic colour combinations with unlimited possibilities. To edit anything, all you need is the MotoCMS, Website builder.
Talking about the features and the important points to ponder about this builder is the amount of customizability that you get in the predesigned templates. The Drag & Drop editor and the detailed tutorials help you to get exactly what you desire for your special day.
Most of them are available in the admin panel in text and video form to solve your issues. Parallax Effects, Audio and Video widgets, Pre-Wedding and Event Galleries, Social Media Integration, and what not! The Templates are loaded with different functionalities that you could ask for.
Not only the MotoCMS wedding templates are beautiful, but also comprise in fast speed and responsive across various devices and platforms. You wouldn't find any trouble in opening the massive post or pre-wedding pictures and neither your friends or relatives would.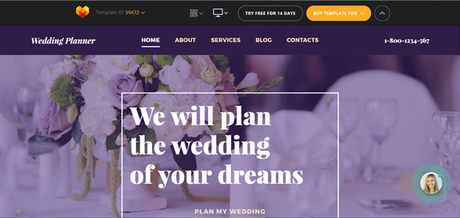 Usually, when you consult a web designing agency regarding the wedding website for you, they charge a whole lot of what you imagine because everyone wants a big chunk of cake out of your special day. But using a Wedding Builder definitely, costs you less. You can start by choosing the best template that suits your theme. There are live preview options across multiple devices, and the designs seem to impress and mesmerise even the single guys like me to have a wedding.
The pricing of the templates is very reasonable and only costs you few dollars to get a stunning visually appealing website. The template and installation altogether cost around $148, and the additional hosting plan makes it an affordable $177 only. You don't need to do anything. Just provide them with the hosting details and sit back. The installation would be done within few hours, and you'll get your site up and ready.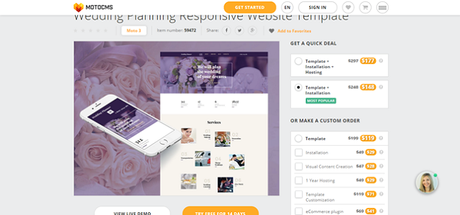 Apart from these, MotoCMS also offers additional services like visual content creation, custom templates, eCommerce plugin, Yearly hosting subscriptions, and much more at different affordable prices. You can know more about the pricing at the MotoCMS's official store itself. The website supports all the standard payment options and transactions through PayPal, Visa, American Express, and much more.
See Also: - Top 5 Joomla Templates for Law Company Website
Overall, MotoCMS's wedding website builder is the prime tool that I'd like to recommend to every couple or the wedding agencies that want to make mesmerising memories for their clients or the Bride and Groom to be. Do share your thoughts and let us know if you liked those templates or not. Cheers!