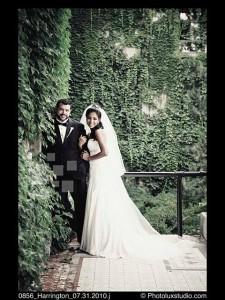 Planning a wedding can be an exciting but stressful process. From music and photographers to the décor and atmosphere, there are many details to organize, and one of these most important details is the dinner menu. It's likely that the wedding guests will be arriving hungry for the reception, so the menu is important to get right. Here are some tips on how to get it just right in order to make everyone happy.
Consider the reception type
If the reception is going to be more of a party, with a DJ playing music throughout, then a more casual menu will be fitting. Appetizers and finger food will be appropriate as guests can satisfy their appetite quickly before heading to the dance floor.
However, if the reception is planned to be a more formal event, then a multiple course meal would be suggested. Feeding the guests while friends and family make speeches about the bride and groom is a great way to entertain for the wedding. A long and hearty meal would be best to accommodate them through lengthy speeches, especially if some guests only know the bride and groom casually.
Plan for seating
One factor to consider when planning the menu is the reception area. There are many different types of reception venues, and there is a perfect menu to match each one. If the reception is going to be held outdoors, a barbecue-style meal can be a fun way to take advantage of the setting. An indoor reception with long tables could call for the buffet, as it gives off a more relaxed feel to the event. Lastly, if the reception is held indoors with small tables that only hold about four to six patrons each, then a more formal meal with multiple courses should be considered.
Variety and picky eaters
Buffet style dinners should have all dishes labeled so that guests with allergies (or just strong taste preferences) know which dishes to avoid. And more importantly, it's important to plan a menu that will satisfy everyone. Many wedding menus these days have made it possible for all to enjoy a great meal without compromising their food allergies or tastes. Some guests may be allergic to glutens, some may be lactose intolerant and others may be just plain picky. The best way to mitigate this issue is through variety. Offering smaller portions of main courses (such as chicken, steak or fish) is one great way of doing this. When someone doesn't have to choose just one, they are certain to be happy.
You can also offer a dinner cart that presents many other options for the guests.
Ethnic themes
What better way to celebrate the families of both the bride and groom than by creating a menu that revolves around their family history? If the groom is of Irish heritage and the bride is of French descent, there is no shortage of possibilities for the menu. For the appetizer menu, you could feature French hors d'oeuvres. For dinner, Irish pub fare could be a crowd-pleasing possibility. There are many different ways to go about it, but offering a fun and creative fusion menu can really make a wedding memorable.
Use local ingredients
While going green may be a great reason to use local ingredients, it isn't the only one. Using local fruits, vegetables and meat is a way to guarantee that only the freshest ingredients are used, ensuring the brightest flavors in every dish. Many local caterers now offer this option to wedding organizers who want to use local products, and guests love it.
These are just a few of the tips for bringing the best wedding menu to the table. There are many elements to consider, but now you should have a few ideas to inspire you to organize a memorable feast. Keep these ideas in mind and you're sure to plan the perfect wedding reception – enjoy the most important day of the rest of your life!
Stop searching! Start selecting with BidsByPros.com and find the best local wedding caterers.
Sara Collins is a writer for NerdWallet, a site that helps consumers find the best discount codes.