No one likes to see an unhappy bride. She has been planning for this special day since she was practically a young teenager. She planned it so carefully, going through many wedding magazines, clipping the helpful articles, creating her ultimate dream wedding day. And now the day has arrived and the expectations are at its maximum.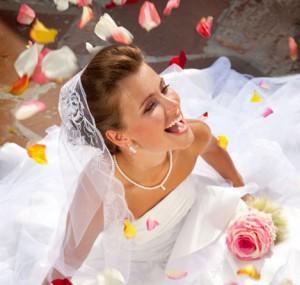 CC: Image source
Writing about weddings and how to managing them, I always mentioned in my previous posts about the importance of involving the professionals.
A wedding planner:
Wedding planners are not just for rich and famous. They are professional wedding consultants who truly can change escalate your wedding expectations and make your dream wedding into a reality. Their cost and fees almost runs about 10% of the wedding cost, although many wedding planners charge based on different elements such as number of guests, list of expectations, and or based on their volume of their experience.
All brides deserve to have the best dream wedding without the cost of anxiety. To make a bride happy, find a suitable wedding planner or consultant to work with in every step of the wedding planning. When crunching the numbers, although the may seem expensive, but their benefits are priceless.
These wedding professionals have many connections in the wedding industry and can save up their fees from negotiating with variety of wedding vendors and save the wedding budget to the minimum. Not to forget to reduce the hassle of search and locating these vendors for the bride and leave her extra time for her beauty rest.
The key is to find the local wedding planner as soon as the thought of having the wedding date planned. Time is crucial in planning the wedding. A bride is managing and creating the wish list and wedding planner's job is to create those wishes into reality based on the budget given.
A bride deserves extra relaxing time, beauty time, and me time, instead of being stress about managing the vendors, locating them, negotiating, and handling many itinerary on the wish list. In my previous post I have created an important question list to ask and interview before hiring a wedding planner.
Use the above link and article to prepare the draft of the bride's wish list. It is important to have the estimate of number of guests, budget, theme of the wedding, and overall idea of what expectation to have.
Easily post your need for a wedding planner in BidsByPros.com and receive price quotes and service information from local wedding consultants. Bids By Pros is growing in major cities. Currently we are working in two major cities of Ottawa and Toronto of Ontario Canada. We'll be moving to South California Los Angeles and San Diego the wedding heaven of the planet next.
Remember, a happy bride is a happy wedding.

Don Zilleri
Don Zilleri is an author and researcher. He is specialized in business marketing, development and is a small business owner. He learns as he writes by researching and interviewing experts and professionals in many categories and topics. Join him in Facebook and become part of his pro network in LinkedIn All Don Zilleri's article's authored exclusively for BidsByPros.com All rights reserved. If sharing, credit Bids By Pros in article source.