If green living is high up on your agenda, you're probably keen to find out how you can make all the rooms around your home more eco friendly.Your bedroom is a fantastic place to start with your green project, since you're bound to get a better night's sleep knowing that you're doing your bit to help the environment.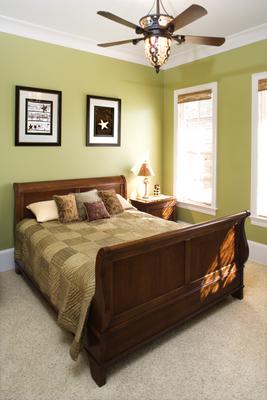 First thing's first, you could perhaps replace your bedding with organic options. You could also bring
mattresses
into this, choosing things made with natural fibres, which are free from chemicals and other additives.
When you're decorating your bedroom, you should try to use eco-friendly paints and materials where possible. This will help to ensure you're limiting your environmental impact every step of the way in your green refurbishment project. You can also boost your green credentials by accessorising in an environmentally-friendly fashion – make your own picture frames or curtains, trying to reduce your carbon footprint by not purchasing shop-bought products.
You can also reduce your environmental impact by ensuring you use fewer electronic items around your bedroom. Make sure you only use items such as lamps and alarm clocks when you need them and turn them off when they're not in use, in order to save some energy around the room. You're bound to notice the difference on your energy bills if you follow this rule in your bedroom, as well as other parts of your property.
Try to find beds which are eco friendly as well, to put in the space. With so many trees being felled around the room, it makes sense to try to find something which has been made using recycled materials in order to ensure your bedroom really is as green as possible.