Physical fitness is not only one of the most important keys to a healthy body; it is the basis of dynamic and creative intellectual activity. Regular work out keeps us fit and in perfect shape. But it's not that much easy to lose weight and stay in the shape. Here we will tell you that how a diet chart can help you to lose weight in four weeks.
Diet is considered as an important aspect for weight loss. Mostly in order to lose weight, people restrict themselves from the foods which results in weakness and negative impacts on health. So healthy dieting should be followed for the weight loss Diet Plan. Here we are giving the diet chart which is quite effective to lose the weight in 4 weeks.
Before discussing the 4 weeks diet chart, one must keep these things in mind
Say no to things which are listed below:
No aerated drinks.
Avoid salts. after 7:30 p.m.
Restrict banana and mango
Restrict rice and potato.
No to carbonated drinks and artificial juices as well.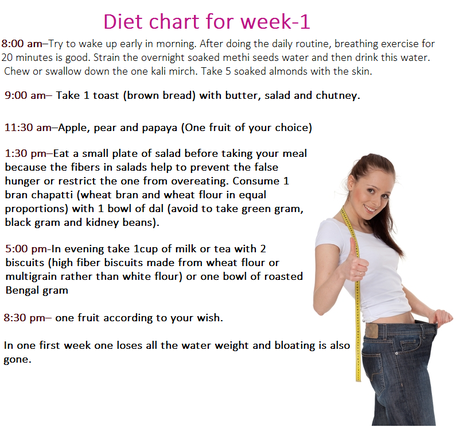 View more posts from this author