I bought 3 Essie polishes the other day and thought I'd play around with them. To create this look, paint your nails any color you like and get some masking tape. I wouldn't recommend using sellotape as it's sticker than masking tape and would probably pull the polish off. I also would paint the base colours a good 6-7 hours or even the day before just to ensure nothing will peel off.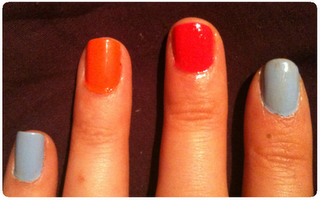 STEP ONE:
Paint your nails any colour(s) you want. I used Essie's 
Bikini so teeny
,
Fear or desire
 and
Status Symbol
.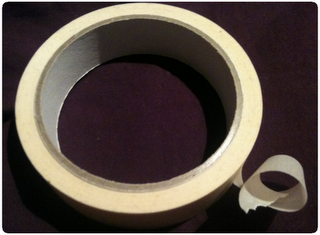 STEP TWO:
Tear off pieces of masking tape, about 2cm each.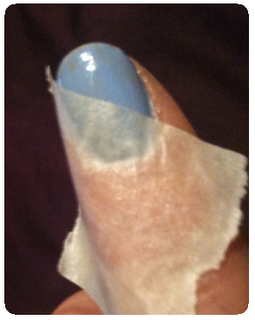 STEP THREE:
Place the tape over your nail. You can do this horizontally, vertically or diagonally. I placed mine diagonally over the nail. Make sure that the tape is completely flat and that there aren't any gaps.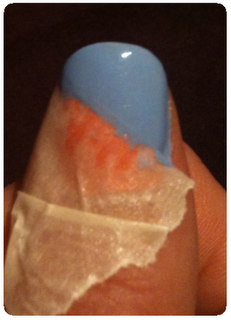 STEP FOUR:
Paint the nail that is still showing with a color of your choice. I did two coats for a smooth clean look. Do this until all your nails are complete (like the picture below)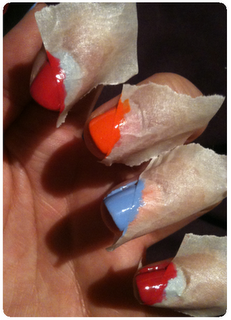 STEP FIVE:
Once the polish is dry, carefully peel off the tape and you should have a nice even line. Apply a top coat of your choice to protect the new design. I also sprayed some AVON liquid freeze quick dry spray to set it quicker too.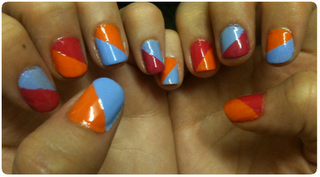 And TA-DARR, you're done!
I hope you enjoyed this quick nail tutorial. Send me a picture on Twitter to @Beauty18Claudia if you decide to do this look, I'd love to see! Thanks for reading! :)