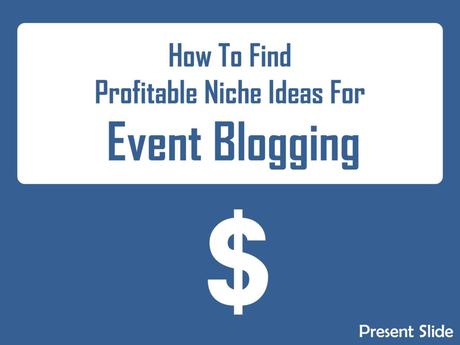 Event Blogging is getting more and more popular these days. I have already written an article about event blogging and how to start an Event Blog. In this article i will be telling you some ways and tips to find profitable niche ideas for event blogging.
The main reason for the popularity of this field is the ease with which you can earn money. Even after it is easy to start an event blog but many a times people fail to earn money with event blog. The choice of niche for your blog plays a great role in the success of your blog.
For an event blog to be successful your blog should:
Started one or two month before that event.
Showcase high searched event for example "Happy New Year 2017"
Have enough number of articles. 30-40 articles are recommended.
Be shared on all major social networks including Facebook, Twitter etc.
Before starting an event blog you must choose a niche that has enough search volume in search engines. If you do not want to spend money on keyword research then you can go with free keyword research tools like SEOBOOK Keyword Research Tool.
Now lets look at some ways by which you can find profitable niche ideas for your event blog. The main need for a event blog is high traffic so we will also look into the steps to find high searched keywords.
1. Google's Autocomplete Function
Google's autocomplete function is the free feature in the Google search engine. Whenever we search for some keywords in the Google search box, it completes the sentence with some high searched or popular terms.

It can be easily used to find terms which are very popular among people around the world. You can get enough profitable keywords using this feature for your blog. Most of the traffic on event blogs come from search engines so going with popular search engine terms will help you a lot.
Also Read: Finding Blog Post Ideas
Just try to fill your keywords and it will start showing you suggestion sorted by some criteria. You can choose these ideas for event blogging.
2. SEOBOOK Keyword Research Tool
There are hundreds of keyword research tools but I suggest you to go with it. The main reasons for this are:
Free keyword research tool
Shows keywords from major search engines including Google, Bing and Yahoo
Shows matching search terms with your keywords.
Displays daily and monthly search volumes
Shows Cost Per Click for Keywords - Helps in choosing more profitable keywords.
You have to create an account for using this tool and it is all free. Go with high search volume keywords and create your blog niche around these keywords.
3. Use previous years event blogs
Event blogs are mostly created for only few days. They are not active for all the time throughout the year. Some of them may run for a complete year for example "Best Web hosting in 2016". But after the year has gone the blog traffic starts to decrease as the creation of more new blogs for same topics.
You can use the last years blog to get some niche ideas for your event blog. Search on Google and find such blogs and choose the one which got high traffic last year. Start creating content for your blog after choosing the niche before one or two month from the date of event.
So these were some of the ways to find profitable niche ideas for event blogging. Now i will be sharing some Profitable event to choose for your blog:
Festival Events
Technology Events
Google's annual I/O
Windows Updates
New Android Version
New iPhone mobile
New Gadgets
New Games and Videos
Sports Events
Cricket Leagues
Football Leagues
Olympics
Commonwealth games
Any Other Sports Events
The main thing that matters for a successful event blog is choice on niche. A high searched niche is recommended for event blogging as it is not permanent earning and it can earn only through some days of the year.
Now follow the above tips and tricks and start your own event blog and earn money through it. Even if your blog fails the first time don't worry about it. Just try your luck the next time.
Hope you liked the article Share it with your friends as Sharing is Caring 🙂