We're heading to Wisconsin this weekend as it's FISHING OPENER THERE (per my Husband)!!!  Our Daughter In Law's parents have a beautiful lake home in Voyager Village.  We've been lucky to visit several times and I'm sure we're going to enjoy it again this weekend (IF he catches a fish)!!
I recently read an article on wikihow that had some steps on how to find and buy a lake home.  Thought I would share it.........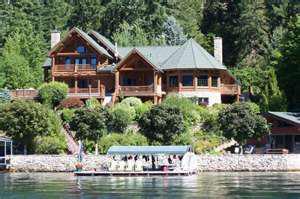 Lakes are all over the US. First consider the climate. Lakes in the northern part of the US may freeze over in the winter offering you completely different sports and activities than those in the South. A lake cabin in Wisconsin offers ice skating, ice fishing while a lake in South Carolina for example may offer water skiing all year long.
Consider where your family and friends are living. Lake houses attract guests! Will your friends and family have a long drive and want to spend the nights or will you lake house be close for informal drop ins?
Look into the size of the lake. Will you be exploring the lake by boat or simply enjoying the view? A 50,000 acre lake offers more variety and places to visit than a 500 acre lake.
Does the lake have any amenities? Are there a variety of boat docks, marinas, restaurants to visit. Can friends easily bring their boats and launch them?
Make sure you understand the lakes rules. Some lakes restrict the horse power of boat engines. Lakes with lots of bridges over them won't be good for sailing. Are jet skis allowed, racing boats?
Fishermen, you should visit the local bait and tackle shops and discuss fishing. Hire a guide that is familiar with the lake and get their opinion. Are fishing tournaments held on the lake?
Once you find the right lake, consider the location of your house. Lake views can be long and sweeping or simply 30-40 feet across a small cove. Generally, you'll pay for the 'big water' views. Some people enjoy looking at the lake, others simply need a cove so they can jump in their boat and go.
Consider boat traffic. If you have the big water views, big water attracts boaters, jet skis or 'water traffic'. Lots of water traffic will result in waves washing up on shore. You'll need protection from erosion. On the other hand, living off of a secluded cove, it will be quieter and you will have fewer waves.
Look how your property runs into the water. Generally the slope of the land continues the same way into the water. A steep sloped lot generally means you'll have deep water close to your shore. A flat lake lot can mean you will have shallow water out some distance. In any event, especially if you are a boater, check the water depth.
Consider the water management. Who controls the lake and and the water depth? Some lakes with energy plants will control the lake, other times the government or US Corps of Engineers will manage the lake levels. Some times of course Mother Nature trumps all. Look into annual water fall and any history of drought conditions.
Do your research on the Internet. There are many useful sites that have lake information.
Solicit the help from professional realtors when making a big investment in real estate.
Talk to people that have lived around the lake for some time. Don't be afraid to get out of your car and talk to your future neighbors. Learn about the lake from the people who live there.
Jeri Pischke, Tender Heart Transitions - Email - Website