This is the software for the amateurs to edit photos like a professional. If you are one of those people who like to take lots of selfies for Instagram, Snapchat, Facebook or any other social media platform, then this is the best app for you. It will help you get amazing photos for your portfolio without spending so much on professional services.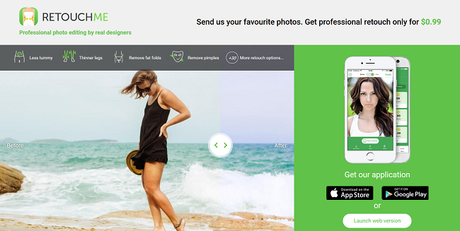 Reasons for choosing the App
The app is super-fast for editing your photos and does not require turnaround time like the other photo editing apps in the market today. With this app, you can a get a high quality professional edited photo in less than 15 minutes.

2. Pocket friendly
When you use the app, you get significant discounts on bulk editing. The images will be worked on by professionals, but you won't have to feel the pinch of the cost attached. Downloading the app is also quite affordable, and you will get value for your money.

3. It is straightforward
You don't need to be versed in the art of photo retouching. All you are required to do is to upload your photo and wait for your photo to be edited by the editing team. After a few minutes, you will receive your fully edited professional photo.

The first step you have o take is to choose the photo or photos you want to be edited and upload them.
The next step is to select the touch-up options that you would like to be applied to the picture or photos that you uploaded .
Give the application a few minute to process your request.
The last step is receiving your enhanced photos from the RetouchMe app team and saving them on your computer, or you can opt to upload them to your social media platforms directly
Photo editing features
The editing features will help you to:

Reduce the size of your tummy
Reduce the size of your legs, so they appear thinner
Reduce the appearance of fat folds and making them disappear
Remove pimples from your face
Body editing
This app can help to reshape your body and give you the body shape that you prefer. The app can reduce your waist, increase the width of your hips and remove the fat folds from your body. In simple terms, this application can give you anybody that you can dream off even if it's the total opposite of what you look like.

Skin retouch
Remove blemishes, scars, and any other unwanted marks on your skin. You can use this app to give you flawless skin in your photos. It can also help to even out your skin tone and remove wrinkles and make the appearance of your skin flawless.

Face retouch
You can remove red eye, eliminate puffy eyes and dark circles around the eye, whiten your teeth, slim your face and reshape your facial features to your preference. The facial editing options on Retouchme app are endless and compelling.

Background editing
The app offers an array of background editing features. You can decide to change your background completely, remove objects that you don't want from your background while still maintaining the rest of the landscape or change the color of your background to enhance the quality of your image. These changes are quite easy to achieve using the app.

With all the above editing features this app can help you edit your photos professionally and produce quality pictures that are not apparently edited. The images you get as a product look real and will not appear like so much work has been done on them.