I first heard about de-potting MAC eye shadows about 2 years ago. I always thought "Nah, I'd rather have loads of single eye shadows, looks like I have more!" Well this morning after faffing about in my vanity trying to get a color out, having to keep picking one up putting it back, repeating 4 times....I suddenly changed my mind and decided that I was going to depot all my MAC shadows after all and put them in my MAC palette. So I got YouTubing and used Amarixe's tutorial and how to do it and as it was so helpful, decided to do a step-by-step picture tutorial for you all.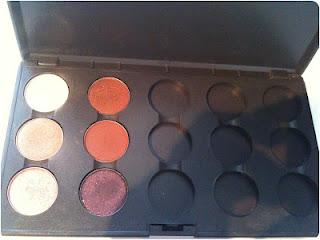 This is my palette beforehand. I had 6 actual MAC pan shadows.
You will need: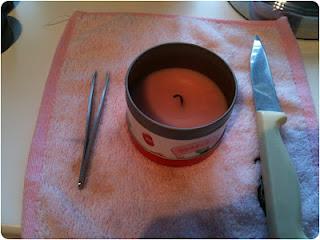 A pair of tweezers
A candle
A knife with a pointy end
STEP ONE: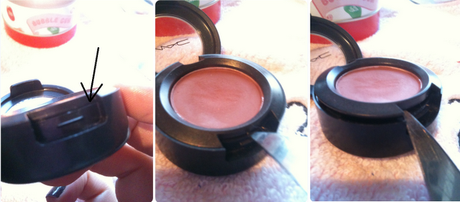 Rest your eye shadow on a sturdy non slippery surface.
Taking your knife, carefully dig it into the little ridge that the arrow is pointing to. 
Wiggle and dig the knife around a little until it pops up like the final picture.
Put the rest of the casing to one side as you will need it later.
STEP TWO: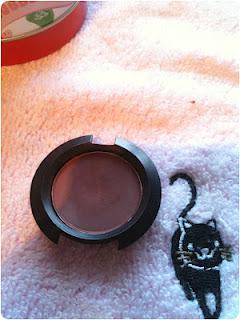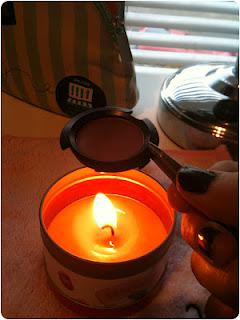 Once you have your pan popped out in the black plastic, pick up your tweezers and securely holding onto the side, hold it over the flame. 
Keep turning it over to check the bottom. Once it starts getting hot, it should start to melt and bubble. 
This step shouldn't take longer than a minute to a minute and a half.
STEP THREE:
At this stage, it will be very hot, so still using your tweezers to hold it in place, pick up your knife and gently push it at the back until the pan falls out.
STEP FOUR: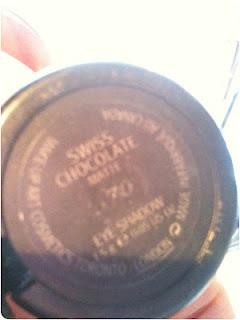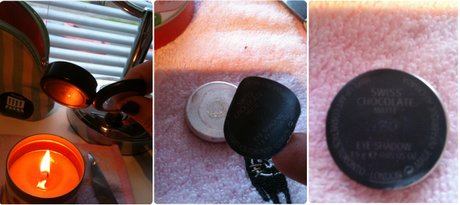 Back to the rest of the packaging. 
Hold it by the lid and hold it at an angle over the flame.
If you watch the label, you'll see that once it gets at a certain heat, the label bubbles slightly until it pops at the edge. 
Once this happens or it's just hot enough, peel the label off and stick it to the back of the newly popped pan shadow.
Then place it into your palette.
To secure it into your palette, you can buy sticky magnetic tape. This you can cut to size and stick it to the back of the eye shadow before placing it in your palette. 
I will be doing this but haven't got any tape at the moment.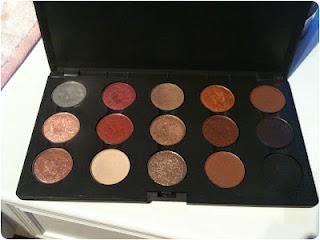 Top row L-R: Electra, Cranberry, Patina, Amber Lights, Folie
Middle row L-R: Gleam, Coppering, Wookwinked, Antiqued, Beauty Marked
Bottom row L-R: Mythology, Brule, Tempting, Swiss Chocolate, Carbon
I love having a full palette now. I prefer it. It's just so much easier. I'm going to do the same with my other colours. This will be my neutral/brown palette, and then I want to do a second one for my colours. 
I hope this has helped and you enjoyed this post.
Have you ever depotted your own shadows? Do you prefer palettes or single MAC shadows?