Beauty
Tip of the Week
I don't know if you guys noticed or not but last Wednesday I didn't post a beauty tip of the week. I know, I felt bad but I wanted to make it up to you this week by posting something more than just a beauty tip. I've been meaning to do a step by step on how I do my winged eye liner. So I figured I would use this beauty tip post to do that. I really hope my instructions make sense. It's a little hard to write out, that's why I included pictures to hopefully help.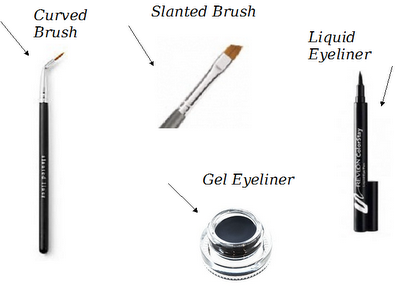 Winged/Cat eyeliner is one of those looks that can really bring your eyes out. This look can give you the illusion of longer thicker lashes and can give you an instant eye lift. But it's a look that a lof of people struggle to achieve, either you have a hard time keeping a straight line, getting the right angle or thickness or getting both eyes to match. I was defineitly one of those people, I wanted to be able to master this look so bad, I watched a ton of YouTube videos, practiced with different brushes, types of eyeliners ect. Then finally one day I was able to get it and then everytime after that I got better and better at it and now I finally can say I mastered this beautiful look.
I personally think it takes practice and the correct products.  Whether you want to achieve a more subtle look like Angelina Jolie or a dramatic look like Amy Whinehouse there are some key tips that will help you to do this.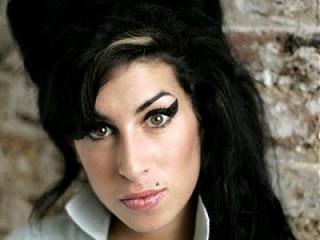 Since there are so many different ways to create this look, Im just going to give you a step by step on how I create it. The way I do it is pretty simple, I tried to make it as easy as I could for you to understand. 
STEP 1. First you want to apply your liner to the upper lash line, if you're going to use a brush then I recommend using the slanted brush with the bent tip thats in the picture above. It's perfect for applying an even line, all you have to do is hold the brush horizontally and follow the natural curve of your lash line.  Start in the inner corner of eye and make short small lines and then go back and draw over the small lines. This will also ensure a straight line. I like to start off thin and gradually build up the thickness as I work my way to the outer corner of the eye.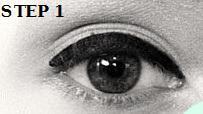 Now you're going to want to focus on the wing. Looking straight in the mirror imagine a similar line (like in the picture below) on your face that goes from the outer part of your nose to the tip of your eyebrow.
 You can u
se a pencil or a brush handle to get a better sense of where the line should be. In other words, imagine a line that follows the natural curve of your lower lash line. This lash line will be your guide to the wing of the eyeliner no matter how short or long you want it to be.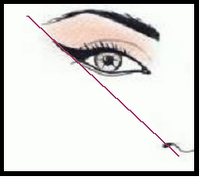 *If you don't feel comftorable yet, try using the edge of a business card and place it at the outer corner of your eye (where the imaginary line would be) and use that as a guide. This is a great tip to ensure the line is straight and in the direction you want. 
STEP 2. I suggest using a matte black shadow with a slanted eyeliner brush. It's much easier to wipe off eye shadow if you mess up then liquid liner. Lightly draw that line you visualized from the picture above by starting from the outer corner of your lash line.  If you're going for a more subtle look keep the line shorter, for a more dramatic look extend the line diagonally upwards in the direction of the tip of your eyebrow.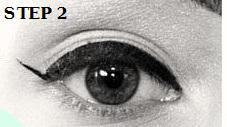 STEP 3. Now to get the triangle that will be the wing shape, create a 2nd line and start from your upper lash line that connects to the outer third part of your upper liner. It will blend right in *(See picture below if that didn't make sense).  You also want to experiment on how thick you want the wing to be. Draw the 2nd line close to the first line and continue drawing it further from the 1rst line until you get the desired thickness you want. You can make it as thin or as thick as you would like. Each time you draw the 2nd line again, make sure to look in the mirror to check the thickness. You should have something that looks like the picture below.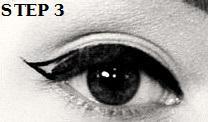 STEP 4. Now that you've got the outline of the wing and are happy with the thickness, go in and fill it with either a gel liner or a liquid liner. Both are good choices, a liquid liner will be more bold as where a gel liner will still be a little more subtle. This is probably the easiest step, it's basically like coloring in between the lines. You should have something that looks like the picture below. Dont worry if it doesn't look exactly the same, as long as you have the shape of the wing you're good. 
My favorite liquid liner is 
L'Oreal's Lineur Instense Felt Tip Liquid Eyeliner and my favorite gel liner is 
Maybelline's Eye Studio Gel liner. Those are the best drug store liners I have found that work just as good as any high end liner I've tried.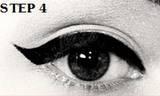 *If you feel like your lines need a little straigting out you can go back with a slanted eyeliner brush and the black eye shadow and set it. I do this almost everytime, also while you have the black shadow out with your brush you can line your bottom lashes for a smokey look. That's totally optional. 
Just remember practice really does make perfect with this! Once you get used to the placement of the wing you can skip drawing the outline in step 2 and just go for it with your liquid/gel liner. I hoped this help any of you that struggle with this look.
If you have any questions or comments please leave them!!
J
Click the links below :)
Follow via GFC
Follow me on Twitter