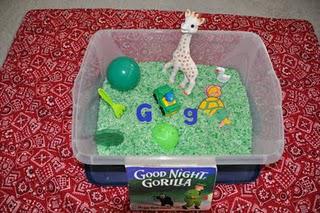 Green / Letter Gg Sensory Box
I have been wanting to create a sensory box for a while and finally did. A sensory box is a box or container filled with different objects, colors, scents, and textures. We have been having some crazy weather in Germany these past few weeks and have gotten more rain this summer than the past two. The parks near our house turn into mud pits because of all the sand. It can get easy to run out of things to do with a 2 year old so I decided to make a sensory box. Here is how to create a sensory box using dyed rice.
You can put anything you want as the base of a sensory box. I bought 10 lbs of rice and dyed 9 cups green - so between 4-5 lbs. You can also use pasta and dye it, water, or anything else that would be fun to play with. A few weeks ago we started doing the Hooked on Phonics for Preschoolers, which gives a good review of the alphabet and the phonic sounds.  My son has been obsessed with letters since around 17 or 18 months when he started noticing letters on signs when we went out. He still loves our letter games but I wanted to do something more with him. I did some research and decided to buy the Hooked on Phonics for Preschoolers. Although it's pretty basic, at least it has him attempting to write the letters (fine motor skills) and
reinforces
of the phonic sounds (which will help him learn to read). Since we were on the letter "G," I decided to dye the rice green the day before.  I filled the box with objects that started with "g" or were green.  My son had a blast digging through the rice and looking at all the objects.  One of his favorite books lately has been
Goodnight Gorilla
so I brought that out as well. 
The only downside of this activity is that rice will get
everywhere
, unless your child is older and/or understands better than mine.  I had to remind him several times to keep the rice in the container and on the blanket.  He wanted to put it rice everywhere!  Thankfully he did pretty well except when I left to get my camera upstairs, he put a few handfuls on our couch.  Besides having to stay near him while he played, this was a great activity for him.  
How To dye rice:
Put dry rice in a large bowl, add about a teaspoon at a time of rubbing alcohol, and a few drops of food coloring, mix and adjust coloring as needed. Dry on wax paper for at least an hour before storing. I got this idea from
Totally Tots
.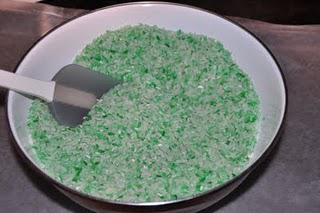 I had to make two batches for 9 cups