Share
Tweet
+1
Pin
Share
Disclosure: This is a sponsored post from Click Company Limited and contains an Affiliate Link.


How to create a jaw-droppingly beautiful master bedroom
Your bedroom is your sanctuary, a relaxing retreat where you can escape the stresses and strains of everyday life. It only makes sense, then, that this room should be as comfortable and luxurious as possible. After all, we spend around a third of our lives in the bedroom, so it's important to get the design spot on. Here are some useful suggestions on how to create a jaw-droppingly beautiful space that you'll love for years to come.
Invest in a gorgeous bed
If there's one area in your home where you can afford to be a little lavish, it's the bed. As the heart of the room, you'll no doubt want your sleeping space to look stylish and sophisticated, while also offering you a supreme level of comfort to lull you into a peaceful sleep. For the ultimate in indulgence, why not opt for a bespoke design that really catches the eye? Furniture specialist And So To Bed offers a range of handmade beds that are designed to make sleep a more luxurious experience. Pay attention to your bedding too. Select big, sumptuous pillows, sheets with a high thread count and a supportive mattress that will make climbing into bed at the end of the day pure bliss.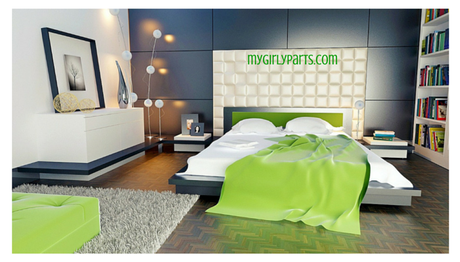 Key accents pieces
When it comes to bedroom decor, less is more. Having too many furnishings on display will make the room feel overbearing and cramped, and the last thing you want when you're winding down for the night is numerous distractions cluttering up your surfaces and walls. Instead, keep it fairly simple and choose a few standout accent pieces that will add visual interest, such as a large piece of artwork for above the bed, an ornate chandelier or a luxurious armchair.
Sumptuous soft furnishings
When creating a stunning master bedroom, don't be tempted to skimp on the soft furnishings. Think luxurious throws, thick pile rugs and full-length drapes. Having a variety of different textures and fabrics will add a sense of luxury and make the room feel cosier and more inviting. There's no need to be overly coordinated with your decor either. As long as your choices flow, you can play around
with different styles and patterns to add personality and charm.
A calming color scheme
Bedroom color schemes should be elegant and soothing. Blues, greens and whites are popular choices as they help to create a serene, tranquil atmosphere. As a general rule of thumb, neutral walls work best as you can then let your accent pieces take the spotlight. And the same applies to bedding – crisp white sheets look beautiful when contrasted with bold, colourful scatter cushions.
By paying attention to design tips like these, you should be able to create an awe-inspiring master bedroom that will be the envy of all your guests.
Are You Ready to Create Your Dream Master Bedroom? via @MyGrlyPrts #Sponsored
Click To Tweet
Disclosure:  Although I received compensation for publishing this post, however, I will only share content of which I feel to be beneficial to you, my readers.
Share
Tweet
+1
Pin
Share