Looking perfect but can't hide that red spot, Acne , or pimple  peeping out through the foundation layer? Applying more foundation or concealer over it makes it look even more apparent?? Learn here how to hide the REDNESS of the acne, flawlessly.
Read the post about corrector here  : CORRECTOR
In my makeup basics series, I discussed about using corrector to neutralize the flaws. Here I will discuss how to cover up the red acne using a green corrector. OOPS !! Don't have a green corrector?? Don't worry we will make one at home. It is very easy to conceal a pimple with makeup.
A simple DIY Green Corrector
You will need: 
A true green color eyeshadow
Concealer
 Q-tip or a Concealer Brush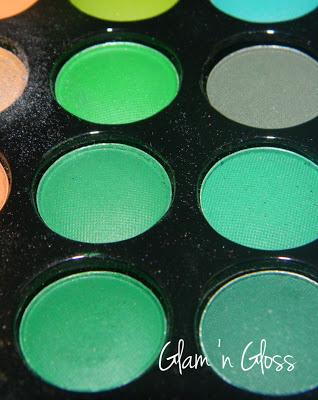 I used the Light Green Color 
Method:
Depending upon the size of the acne you need to cover up take small amount of concealer on back of your palm or any plastic palette. If you have few acne to cover up, I advise you to go one at a time to avoid the wastage of product as concealer may dry quickly.

Concealer 



Take a tiny bit of green color eyeshadow beside the concealer.

Concealer and Green Shadow



Now mix the two by mixing smallest quantity of green into the concealer and darken as per requirement. You can use a Q-tip or a Concealer Brush or your finger. Stick to the basic rule – for darker red color of acne You need a little extra green color, and lighter red colored acne will require lighter colored corrector. But the thumb rule of mixing green color to the concealer is that the color green should make the concealer green colored. Don't add too little of eyeshadow that it doesn't show up and turn the concealer green.     


Green Corrector
 (looks a little blackish because of lighting issues)

Woila!! We have our very own green corrector.
Application Process:
The Most Important point to remember is to apply this BEFORE the foundation.

Red Acne



Having them mixed together, now dab the corrector the corrector in a small quantity directly on the tip of the acne. You can use a Q-tip or a brush for precise application.
Take good care that you don't move the color out on skin too far away from acne (as this will make your skin look green).

Green Corrector Blended
( I blended it a little too far as there was some redness in entire area which wasn't captured by camera)

Now with your finger tip dab the product and push it on the skin and blend it on the edges.  You will notice that the green will immediately take away all the redness.
It's time to hide the green colored patch. Apply your regular skin colored concealer on top of this green patch with a light hand. Remember to just dab the product rather than tucking and pulling.

Dabbing will make a layer over of concealer OVER the corrector. Tucking, pulling and blending with MIX the corrector and concealer. Use your fingertip for this step.

Concealer added on the tip of Acne




Concealer Blended (no foundation applied) 

Now follow it with usual foundation and set the whole face with powder so nothing moves out of its place.
Last words:
I know people will be very skeptical of using an eyeshadow and mixing it with concealer. But I will urge you to try this once at home. If you use a good concealer, the corrector isn't going anywhere. And moreover try it out on day a day you are not going out, Who knows you might just like it. For me, It really saved me few bucks, as green corrector isn't available easily and moreover considering the price tag I would rather stick to using an eyeshadow. And it has never failed me, I wear it often when I breakout and it never gets noticed.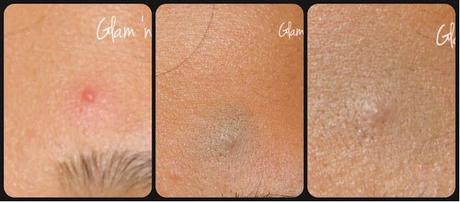 Notice how the Redness and Appearance of acne has vanished, The tiny hint of green still visible will be washed away when foundation is applied.
Hope this would help you to Conceal / Hide a Red Acne or Pimple.   Do try it out once for fun and let me know how you liked the results.
Stay Beautiful :)Shweta