Website builders are the absolute solution for beginners and small businesses owners who wish to start a website without hiring a developer. The primary need arises because developers usually charge around $1000-2000 for a minimal dynamic website and people cannot afford it initially.
However, the problem is finding the best website builder as the Internet is now filled with too many website builders. It can be pretty tricky for beginners. People often end up losing their money after buying a not so good builder that doesn't even meet their basic requirements. So, how do you know which is the right website builder for you?
Well, this article is not about the comparisons of all the popular best website builders but by introducing you to a website that does all the hard work by going over the pros and cons, and detailed reviews of each.

Choosing the Best Website Builder - BestWebsiteBuilder.com
Before visiting each site and playing the guessing game that which builder is ideal for you, you should be using Best Website Builder. The developers have found the perfect solution for beginners who spend hours on dozens of different review websites and community forums to find out which Website Builder they should use. Be it Wix, WordPress, Shopify, Squarespace or Weebly, and you can get the insider's edge of each builder here.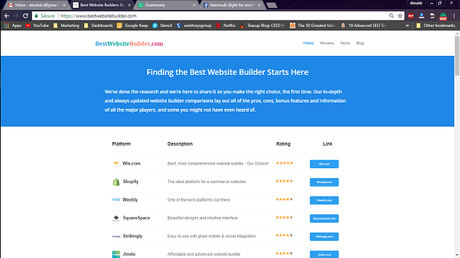 But first, we'll recommend you to write down all the things you want to do with your website or Online Shop. What are your primary goals and what specialties would you like to see on your site.
To get started, you can write down things like having a blog section, online store, photo gallery, contact form, slider, reservation system, etc.
If you are still not sure about what you want, then check out for the other websites and even your competitors' websites for inspiration.
Almost every website builder nowadays offers a drag and drop user interface to build the website. Fortunately, the BestWebsiteBuilder gives a detailed insight of all the top website builders, and you can take benefit of the trial accounts to test drive before you make your ultimate decision.
Next, you need to acknowledge your growth options. Will you be adding regular updates on your website? Do you need a blog section for publishing your thoughts? Would you be selling new products on your site in the future?
You have to make sure that the website builder that you'll choose is capable of managing your needs as your business grows.
That being said, BestWebsiteBuilder considers various aspects of website builder platforms to make your website without hiring a developer. Starting from the most important thing, money to the themes, templates, designs, all the features included, after sales support, SEO, plugins and apps, e-commerce, and much more.

Which Website Builder Should You Choose?
To be practical, we can't tell you exactly what you should go for this website builder or that would better for you. However, the website offers website builder reviews, and many other potential factors are affecting that you may or may not like about the particular platform are mentioned in these reviews.
For example, you may like one user interface over the others, you may want a design template from a specific web builder, or you may wish a particular tool that a builder offers while the others don't.
So, as you can infer, how you observe and evaluate whether Wix, Squarespace, Shopify or Weebly works best for you, is a truly personal experience.
Moreover, you could test all of them for free. Wix and Weebly both have free plans. So, if you already own the domain for your website or business, then you can start right away. While Squarespace doesn't offer a permanent free plan, they do have a 14-day risk-free trial session so you can give them a chance as well.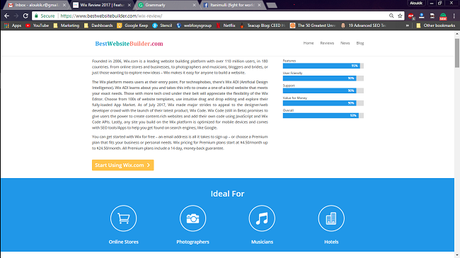 Every website builder has its collection of pros and cons, and you might find some drawbacks more acceptable than others, according to your business or brand needs. That's why we recommend that go the BestWebsiteBuilder as they present each of the builder platforms in accordance with their key features. Also, the reviews are well versed and with necessary screenshots of images that give you the most out all the website builders before you want to commit one individually.
As you can see, the website also provides an accurate pricing, plans, and included features in their reviews. All the significant plans are mentioned in their Reviews.
So, this was all about the website builder platforms and how to decide the perfect one for you. Do share your thoughts and let us if you've successfully found the perfect one for you using the BestWesbiteBuilder and their detailed reviews. Their website also hosts a Blog that offers you all the articles revolving around website designing and development. Be sure to check that out as well.