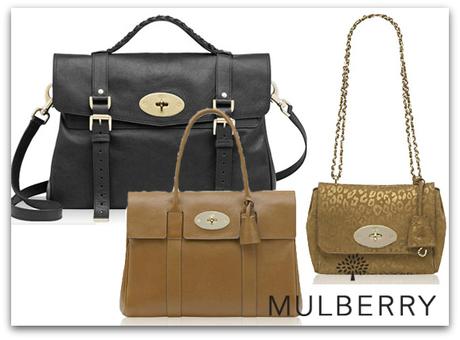 As most of you already know that i love everything from handbags and accessories from Mulberry and some of it can be very expensive for one of the icon bag the bayswater bag, I have been a huge fan of mulberry from a really young age and at the time and i thought that i would never ever be able to afford one because of there huge prices. I must of been asking my mom since the age of 13 so beg her to get me one and she said that it was a total waste of money and she wasn't prepared to spend £800 on a bayswater bag, I first wanted a Mulberry bag when i saw Frankie from the Saturdays had this lovely bag and it was just the perfect bag for me,  i just loved it and it was the Tillie tote bag and i must of looked everywhere for one and there was no way that i could afford £1,100 for it and i must of waited a few months to think how i was gonna get this money to get this bag and by the time i wanted the bag the range was gone from Mulberry in 2011 and i was completely gutted. My chances of getting this bag was not very good and i was looking on eBay for months and months until i found one and it was perfect, The seller wanted about £150 - £200 (i cannot remember the full price) there was some marks on the back of the bag and at the time i wasn't aware of fakes and i didn't know what they looked like, I saw all of the original recipes and to say that it was a real Mulberry item,I received the bag and i was completely blowed away and it was so beautiful and i can remember showing it on a video on my YouTube channel and i was so shocked that i had just bought my very first Mulberry item and my mom went completely mad when she found out that i bought it, I loved it and started to use it and people was saying thats a lovely bag and how lucky i was to have a designer bag as mulberry is kinda expensive. My first Mulberry bag was bought way back in 2013 and i have used it ever since and 4 years later it is still in fab condition but it does have some stains on the bag now and it needs a good clean but apart from that i will still remember that was my very first Mulberry that i ever bought myself.
Here is my Mulberry Tillie Tote witch i bought in 2013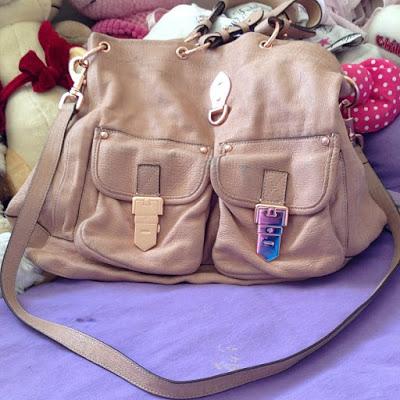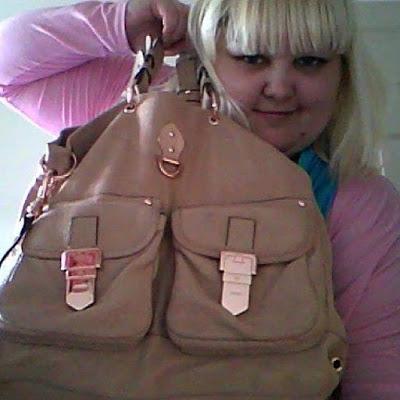 When you buy any designer bags from eBay you have to be very careful with fakes and replicas as there are so many on eBay these days and you want to get yourself the real deal not a fake with all of your hard earned cash, The main things you need to look for are the serial numbers and the quality of the leather witch i have provided here: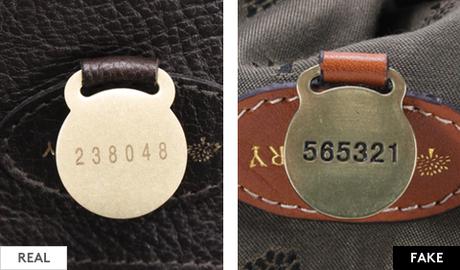 As you can see that the one on the left is the real one and on the left is the fake one and also you need to look out for the badge and mulberry tree logo witch is also attached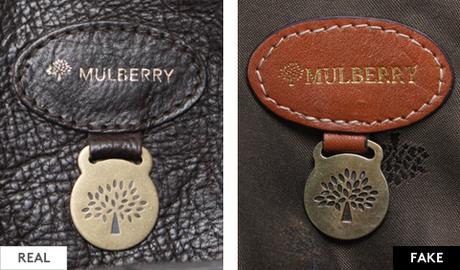 As you can see from these photos and study them quite well then you know what you are looking for when you are bidding / buying a mulberry bag on eBay, I have bought all of my Mulberry bags and purse from eBay without any issues and i have had some good bags from good with a really good price, Some people has asked me how do you afford 3 Mulberry bags and i say that i just can because they are not one of the cheepest bags to buy and they are very expensive, Well i am never gonna be able to afford a Mulberry without me saving up and i could get one with no problem but as i wanted sooner i turned to eBay for some cheeper deals.
The good way to bag a good Mulberry bag is look at some of there older bags from there Tillie range and of course the Roxanne bags witch i have owned myself. The older the bag is you will get a really good Mulberry for a fraction of the original price.
When you buy a Mulberry bag for over £160 you are thinking it is a fake because i paid so little for it and the answer is completely no if you look at the photos of the bag before bidding/ buying and look at the photos above then you know you got a real and authentic mulberry bag and not having to break your bank to own a real Mulberry,
With some of the bags that i currently own from the Tillie Satchel Tillie Tote and the Bayswater bag there will be some dirt on some of the Tillie range bags because of there age and the quality of the leather as my one is like a dusty pink color and i need to get it cleaned soon and get it back to a normal color but i believe that i might destroy it so i have left it for the time being.
My mom thinks that i am completely mad that i spend my my money on these bags and pursues from Mulberry when i get paid every month and she said to me that it is a complete waste of money and they aren't worth the money you pay for them but i love the way how they was made and how big and colourful they are and i origiannly asked my mom for a bayswater bag and she said that she would't spend £800 on a bag for not every day use.
One of my oldest cousins has got the brown / oak bayswater bag and my uncle paid cash for her bag and when i saw it up close i just wanted one and thats how my collection started with Mulberry bags that i wanted to own one myself,
If you do your research and keep looking on eBay every other day you are gonna get something for sure i have been doing the same ever since and looking around on eBay under the bags that i want and they are always updating listings and bags for sale on there.
I have also owned 4 Mulberry long purses and they have been at really good prices from £23 and i can also tell with a fake mulberry purse straight away and i currently cannot compare a fake mulberry wallet to a real one as i currently don't have one to compare.
I hope that this information has helped you to own a Mulberry bag and here is a few photos of my collection so far....