We have been asked to share this interesting information to our audience about a recent study that reveals how much recycling material in the UK actual ends up in the land fill instead.  Perhaps this story is just another indication on the importance of why we need to work together to get the message out, "We all can do a little more for the environment".
Download the full detailed PDF version of the Recycling 'Saints and Sinners' of the UK map below
---
New study reveals Britain set to fill over 40 million bin bags with rubbish in the next 3 days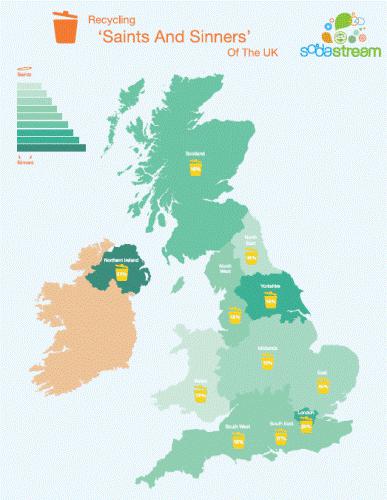 This Bank Holiday Weekend promises to be an action packed one with over 10 million of us planning on partying, going to festivals and hosting friends and family for barbeques and dinners.
But while you're out having fun, spare a thought for the bin men of Britain come Tuesday, with a new study showing all that fun and festivity will produce over a staggering 40 million bags of rubbish.
And while we party it up, many of us will forget our green credentials over the weekend with almost a fifth of our waste not being recycled.
Furthermore 10% of that non-recycled rubbish will consist of plastic bottles according to the study by Sodastream, while half of us admit we don't feel guilty about the waste we produce.
Brits top five bad habits this Bank Holiday are likely to include:
1. Throwing away food
2. Leaving lights on/wasting energy
3. Not recycling food packaging
4. Throwing away plastic bottles
5. Buying/using too many plastic bottles
The most wasteful cities in the UK when it comes to bottle waste will be Newcastle and Sheffield, with Brighton and Bristol the least wasteful.
Sodastream have commissioned the research to highlight the practice of 'pre-cycling', reducing waste before there is any need for recycling and to illustrate this they have produced a 'Bottle Family' sculpture made up of the number of plastic bottles the average family use in the UK.
Top Five Recycling Tips for the Bank Holiday Weekend
1. Get organised before the weekend by having separate bags and containers ready to fill with different types of rubbish.
2. Re-use plastic bottles during the weekend instead of just chucking them out.
3. Wrap up leftover food as soon as you're finished to make into meals and snacks the next day
4. Instead of buying lots of bottled drinks – make your own.
5. Make recycling fun for your kids by making it a competition to see who can collect the most recyclable items over the weekend.
For more information on this study please visit: SodaStream.co.uk
[Note: article has been reproduced with permission and by request]