Do you know that you can look your absolute best with a trendy motorcycle jacket? Whether with just a simple tee as top or some beautiful printed blouse, you can have it spiced up with a jacket. For instance, try wearing a pink motorcycle jacket over a grey V-neck shirt – and you will look your coolest.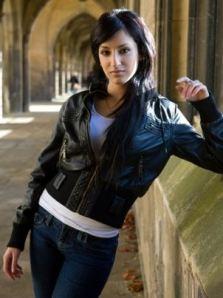 1. Add more style to simple blouse and skirt
Ladies' leather jacket will add great style on a simple pencil cut skirt, mono-color blouse and pump combination. Make sure that the jacket ends exactly at the waistband of the skirt. If you decide to wear your denim skirt, a black leather bike jacket is a great complement that will reveal the chic and edginess in you.
2. Great Contrast to Girlie Dresses
You always wanted to be seen in girlie dresses such as a sheer dress or one with floral prints. If you like to do something different with womanlike apparel, try wearing a black leather jacket over it and finish with a pair of cute high heels and simple gem head accessories. Make the glamour of wearing some faux pearl necklace contrast the mannish cut of the bike jacket.
3. Jazz up your work ensemble
If your work clothes include button up shirts and rough pants, you can perk up such otherwise dull apparel with a leather motorcycle jacket. Not only will it make you look trendy while ready to meet the day's work, but it will keep your morning travel warm as well. Perhaps you are looking forward to an afternoon business meeting with associates, a black women's jacket over ladies' business shirt offers a commanding look.  However, avoid bulky jackets but go for thin ones to look sleek and stylish on dresses.
4. Jackets are perfect addition to jean getup
If you're food of wearing denim jeans, you can wear a lady's leather jacket and you will exude a classic tough look throughout the day. Wear some bangles and large stone earrings to lend some girlie touches.
Put simply, your wardrobe might be a simple one for your typical day, or one that needs to impress a few important people; you can certainly add more style by wearing a bike jacket. Even a light pink motorcycle jacket is enough to easily flatter even your most dull attire.
Image Source: Overstock