"We were asked to make a vow, and we did.  We were forced to go through hard times, and we made it.  We were able to accomplish the goal that we came here to accomplish."
This quote from Haruki Murakami's "1Q84″ shows a side of this book that I was a little surprised to find.  While this book really creates some of the best magical realism I've read in a while it is also, very simply, a love story.  It took me much longer than I expected to finish this book, but at almost 22,000 screens that's not a big surprise (for those of you with e-readers you understand) for those of you without e-readers I'll give you a comparison.  The unabridged "Les Miserables" is just 27,000 screens.  So to put it bluntly: this is a long book which requires a good deal of dedication to make it through.
The novel "1Q84″ is a more sophisticated inception where the protagonists are struggling to understand just what world they have fallen into this time.  The world is signaled by the moon.  If there is one moon, you are in 1984.  If there are two moons, you are in 1Q84 or "the cat town".  Fairly simple at the surface, but things get more complicated as the protagonists Tengo and Aomame reveal more of their stories and the novella Air Chrysalis  enters the scene along with the Sakigake cult whose secrets it unleashes.  This book is, as I've said, mystical realism with the cult being controlled by the not-good but not-bad Little People , crime novel with Aomame's secret profession, and mystery.  But at it's heart, this is a love story.  Tengo and Aomame have been longing for each other since elementary school and after 20 years are getting close to their reunion.
There are a lot of things Murakami does well (or the translator does well.  I'm never sure who I should really be praising when I read a translated work as I cannot read the original text and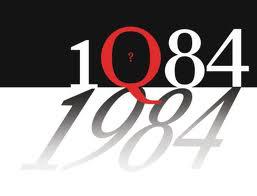 compare).  The descriptions and details are flawless.  Your imagination will not have to fill in the blanks.  This book could be used as textbook for the "show don't tell" writing mantra.  The magical realism elements are also perfectly blended.  While many of these elements are bizarre and hard to imagine, Murakami makes you believe.  I couldn't tell you when I just pushed reality aside and started to believe, but it happened.  The pacing of the novel is also done well, there are sections that seem a little too repetitive, but overall each section links to the ones before and after it.  My only issue with the novel was the ending.  The whole novel seemed to be focused more on the magical elements and then ends entirely focused on Tengo and Aomame's reunion.  This does add to the overall atmosphere of the novel…but as a reader I just wanted a little more closure (don't we all though…)  I would also like to state that there is a lot of sexual content in this book, some of which is relevant to the plot and some of which is not quite so crucial.  If you're someone who is opposed to this kind of content, you've been warned. 
This book does seem to go along with a popular theme we've seen in media recently.  It fits in perfectly with movies like "Two Earths" and "Melancholia" and if you're a fan of either one of these movies you will enjoy this book.  However, if neither of these movies appealed to you and you weren't able to sit through the full two hours, don't invest your time starting this one.  It'll take you far longer than two hours to finish this book and it is in the same vein as both of these.  Obviously it's not exactly the same and if you really feel like giving this book a try, by all means go for it.   I would be lying if I said this was going on my favorite book list.  It's a little long, a little slow in parts, and the ending left me just a little unsatisfied.  That being said it is worth the time to read it once.  It gives you a lot to think about, a new world(s) to immerse yourself in, and characters who just seem real.