The Office of the Registrar General and Census Commissioner of India has this week released the results of the 2010-2013 data collected from the Sample Registration System. The study used the verbal Autopsy tool and was done in the entire SRS area and had recorded 1,82,827 deaths during this period  .  The top 10 causes of death during this period in India and the previous round of study in 2004-06 is shown below  :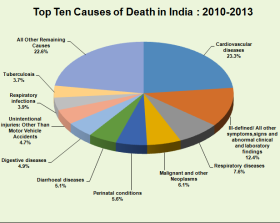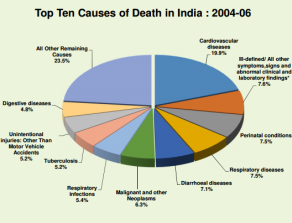 (Image copyrighted by ORGI , GoI and used for informational purpose only)
While the top 10 causes overall has remained the same their relative positions have changed quite a lot (except for Cardiovascular diseases and the ill defined category )
In terms of age-distributions the commonest cause of deaths are :
1. preterms birth and low birth weight in Infants
2. Pneumonia in the 1- 5 years age group
3. Suicides in the young (15-29 yeard)
4. Cardiovascular deaths in middle age(30-69 years) and the old.
The report also presents data dis-aggregated into sex (male / female),area of residence (rural /urban) and  states (EAG and non-EAG)
Detailed Report is available here: http://www.censusindia.gov.in/2011-Common/Sample_Registration_System.html