Any mummy knows that the bulk of your day is taken up with cleaning. It feels like an endless job. Wiping noses and faces come with the territory. Then at mealtimes you can face the battle of cleaning up in the dining room. The table, chairs and floors somehow get covered. I can't remember how many times I've said "I don't remember eating that" as I've wiped up the table!
The worst part of it is when something becomes permanently stained despite all your hard work. This is why I'm a keen advocate of any home styling that avoids this disappointment. I'm not workshy, but I am house proud. I want my home to look beautiful and be a safe and healthy environment for all my family.
One of the best things I've found for the dining room is the humble oil cloth. This is so easy to wipe clean, and nothing gets soaked when the tippee cup goes over. It won't stain, and it won't wear when we're doing our arts and crafts either. I keep a linen cloth underneath, so I can just lift the oil cloth off if I have guests over.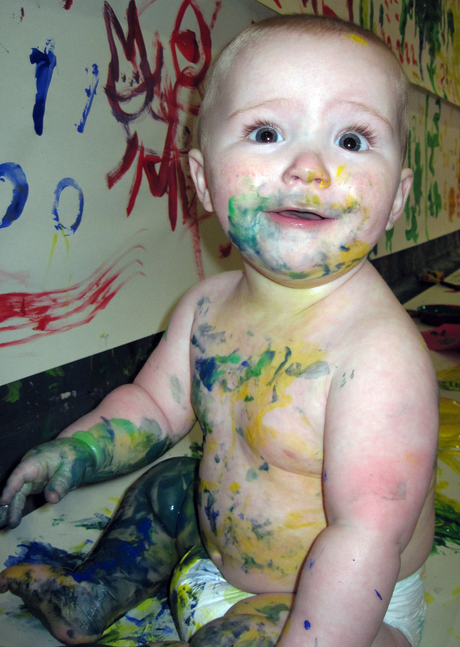 I've have seen some gorgeous carpets completely ruined by pens, drinks and paints over the years. I have seen some expensive carpet washers unable to even budge those stains. In areas where spills are likely to occur, I've made it my mission to invest in easy to clean flooring. One of my favourite for easy cleaning is luxury vinyl tile flooring . It comes in so many beautiful designs that you can create a very stylish room from the floor up.
Children love to draw and colour. Sadly, they firmly believe the walls of homes are their blank canvas. Fortunately, I'm one step ahead. I have a tester pot handy to cover over anything that won't wipe clean. It blends in well and costs very little. It's just enough to keep the wall looking fresh. When you have supervised art sessions, use one of those little waterproof jackets to avoid any stains getting on the clothes.
I spend a lot of time in the kitchen cooking and cleaning. Toys in the kitchen are banned in my house because it is so dangerous. I'm lucky enough to have an open plan design in my home so play can continue under my watchful eye without it encroaching on the kitchen. Video baby monitors are another way to keep an eye on children playing in the next room while you are cooking. Choosing a two-way system means you can still talk and interact with them, and be in the room in a second to pre-empt any problems.

Baby wipes are definitely my go-to product. They clean up pretty much everything and are completely safe around the little ones. Tissues are also always on hand in my house. Sticky fingers and runny noses can quickly make a terrible mess if you're not on hand to clean up! How do you kid-proof your home?