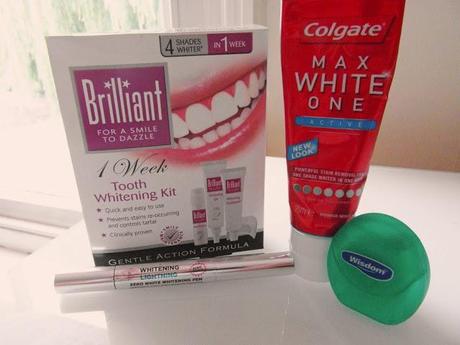 Colgate White Max One Toothpaste - £1.99 Boots
Wisdom Dental Floss Mint Waxed - £1.00 Wilkinsons
Brilliant For A Smile To Dazzle 1 Week Tooth Whitening Kit - £5.59 Superdrug
Whitening Lightning Zero White Whitening Pen - £50.84 Whitening Lightning (discount code below)

So i thought i would share with you how i whiten my teeth and keep them healthy. Being a smoker (i know its disgusting habit, so please no rude comments) and a heavy tea drinker one of my main issues is maintaing a bright white smile due to staining. I know i could quit smoking and drinking tea but that's just not going to happen anytime soon. When i first decided i wanted to start maintaing the whiteness of my teeth i searched for hours on end looking for a 'smoker' that had managed to come up with a solution, but i didn't have any joy - so really i have a tried and tested with various products to get to where i am at now and what works.
First thing you need to understand is you can't just use a whitening tooth paste with hope of a hollywood smile after a week of using it, that is just not going to happen.! I use the Colgate Max White One toothpaste as an extra to help maintain the whiteness. Secondly you need to also understand that your teeth need to be well maintained for any whitening to begin, i know i can't say i am the best down to my habits but i try my best! I am by no means patronising as you all know this already but this means brushing at least twice a day and also flossing at least twice a day, its amazing how many people don't floss. Flossing helps get any tar tar and plaque build up from underneath your gums and in between your teeth.. If this bit is not done your going to end up with white teeth and then yellowish substance between the gaps - Not a good look.
& once you have got the maintaing bit done its down to the initial whitening. I haven't got £100 to spend on an amazing home kit, which probably would make your teeth 4 shades whiter in 20 mins, but what i have used you can really notice the difference. I have used Brilliant For A Smile To Dazzle 1 Week Tooth Whitening Kit. In here you have a accelerator for your teeth, the whitening gel, a tooth guard and whitening toothpaste. This is used twice a day for the cause of the week, It says 4 shades whiter in 1 week, as a smoker i don't believe i have got to 4 shades whiter definitely probably 2 shades. One thing i have noticed is the kit has visibly reduced any staining on my teeth. I would use this kit once every two weeks for an initial whitening.
The next thing I use daily is the Whitening Lightening Zero White Whitening Pen. It reminds me of a lipgloss with the twisting motion at the bottom to release the gel. I use this at night time before i go to bed because it says to rinse off after several hours. It is just like painting your teeth with the gel, the one i have is for sensitive teeth. This is an extra step that i take due to my habit, so it is not necessary for everyone but as a cigarette burner these steps have all worked for me..
I hope this has helped in your way to white teeth, please feel free if you have anymore questions - and i will keep you posted on my journey to a hollywood smile if i try anything new. Thanks
Whitening Lightning discount code 2PEN29 - allows you to buy two pens of your choice for $29 which works out to £18.69 for 2 pens. BARGAIN! Let me know if you have any other treatments that have worked for you, i love finding out about new products to test!!


TWITTER | FACEBOOK | INSTAGRAM | BLOGLOVIN