Today's guest post is from Kelly Dunning. She contacted me a while ago about writing one and this sounded like a great way to capture the spirit of adventure that many expats share. If you make up your mind to go, this could be you.
---
Adventures in Accrington: How I Accidentally Ended Up Working Abroad in Northern England
What do you say when the sexy and confident Englishman that you met only a few months before while traveling New Zealand asks you to come back to the UK and live with him?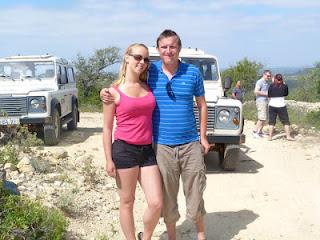 Kelly and Lee on a Jeep safari in Portugal
If you are me, you say, "why the hell not?" and end up on an unexpected 14 month detour to the small Northern town of Accrington, Lancashire.
In the autumn of 2009 I left my home country of Canada to spend six months working and traveling abroad in New Zealand. I had no idea that it would be nearly two years until I set foot on Canadian soil and that my adventures would take many twists and turns along the way.
The first twist in the story is when I laid eyes on Lee.
I got a job in New Zealand as a tour guide at Napier Prison, which was the oldest prison in the country and a popular tourist attraction on the east coast of the North Island. The site hasn't been a prison for decades and it now hosts backpackers and offers tours of the historic jail cells.
When I arrived as a young and bewildered traveler one September evening and walked into the staff lounge, Lee was sitting on a table dressed in a prison jumpsuit and covered in ghoulish makeup and fake blood in preparation for a scary night tour event. Despite this somewhat creepy first impression, I was immediately fascinated by his rough Lancashire accent, his irreverent demeanor and his completely disarming confidence.
Over the next month we both started seeking each other out to spend time together, eating at Burger Fuel, swimming at the Ocean Spa and taking walks together in the Botanic Gardens. Then, our travels took us in different directions for six weeks although we kept in contact with one another.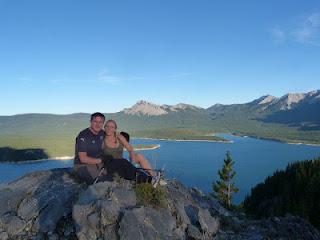 Kelly and Lee hiking in Alberta, Canada
The second twist in the story came in December, when we both ended up in Christchurch at the same time. We both wanted to get jobs and rent an apartment and for a couple of months and decided to share a place to save money, which is how we ended up living together before we were even officially a couple!
After a few months of working, living and partying in Christchurch, Lee had to go back to England. Neither of us had discussed whether our travel romance could turn into a long term thing, but we both knew that we were on to something good. When he suggested that I apply for a working holiday visa to the UK and come with him I knew that if I didn't, I would have always wondered how it would have turned out.
It turns out that saying "yes" was the best decision that I have ever made. I ended up spending 14 months living in Lee's hometown of Accrington eating steak and kidney pie, watching football matches and taking care of cute little kids at a daycare (or nursery as they call it over there.) The visa was very easy to obtain and it allowed me to work in England for 12 months. I fell in love with the UK; the history, the culture and the gorgeous architecture and countryside. I made lots of great friends and felt like I was accepted as part of the community.
During our time in England, Lee and I decided that what we really wanted to do was to travel the world together, so I started to build up an income as a freelance writer, a job that I could do from anywhere in the world. It took a lot of hard work, but we soon were able to travel from the money that I could pull in while working on the road. We cut down our possessions to only what we could carry on our backs and we set out for adventure.
Since then, we have relaxed in the Algarve region of Portugal, stuffed ourselves with pasta in Rome, backpacked our way across Canada, survived a winter in Newfoundland, stayed with a New Yorker in Brooklyn, visited Lee's brother in Virginia, listened to Jazz in New Orleans, and toured the monuments in Washington. As I write this, we are in Bangkok, Thailand on a new quest to see the wonders of Southeast Asia.
My experience taught me to be open to what life throws at you. I could have said "No" when Lee asked me if I wanted to apply for a working holiday visa and come back with him to England. It was a risk and there were many ways that it could have gone wrong. However, it was worth taking the risk because everything worked out even better than I could have imagined. Not only did I have a wonderful experience working abroad in the UK, now we are fulfilling our dreams of traveling the world!
Living and working abroad involves taking a lot of risks and requires you to leave the familiar behind and leap towards new possibilities. When you go abroad, don't be afraid to let your heart make a few important decisions as you just might love where it leads you.
---
Author Bio
Kelly Dunning is a writer for Global Visas, the world's leading authority on immigration and your best source for UK working holiday visas. She is also a coffee-lover, very bad singer and international pub quiz winner. She wrote this guest post from an open air café in the heart of bustling Bangkok with the buzz of tuk-tuk engines and the smell of frying noodles in the air.