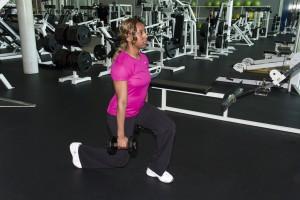 How do you learn to love exercise?  Typically, this is something that personal trainers don't address as much as they should.  It's a known fact that exercise increases longevity, weight loss, and enhances health.  But yet, only about 50% of the population is exercising on a regular basis as we speak.  So, how can you develop the motivation to exercise, even when it's the most boring and repetitive thing you've ever tried in your life?
Give Versus Take:  Which one does exercise do for you?
Making time to exercise takes effort, commitment, and energy.  Becoming a regular exerciser may bring other obstacles such as:
marital discord due to increased time away from your spouse

level of self-confidence to maintain fitness results

self-limiting beliefs that decrease personal happiness and self-esteem

maintaining motivation to exercise after you see initial fitness gains

competing motivators and obligations that may affect exercise goals
It is evident that the common "lose weight and tone-up" goal doesn't provide lasting motivation to exercise; that's because external motivation goals like weight loss, health enhancement, or fitness improvement isn't worth creating the time to do repetitive, boring exercise.
So, what has to change?  How you approach exercise.  View exercise as something that adds to your life and make life worth living.
How to Make Time and Love Exercise
Make the exercise you do meaningful to you.  There are a few ways to do this.
What are your spiritual, mental, and emotional needs in life right now?  Do you need peace and harmony; self-confidence development; improved mental focus and productivity; or to learn new things?  Exercise can provide all those things for you.  In other words, use exercise to fulfill your needs that will help you become whole, healthy, and well.
Ask yourself 2 questions:  a.  What things are important to you in life?  b. How does fitness and healthy eating fit into this picture?
Does your health affect the well-being and safety of your loved ones?  Love is the biggest motivator of all.  Who do you love so much that you want to be healthy, happy, and whole so you can care for them?
Need guidance in making exercise meaningful to you?
By January, I will have an email course available that will give you the tools to become motivated to exercise and stay motivated.  If you would like to stay updated, then click here to join my mailing list.
Summary
Instead of looking at exercise as something that takes away time and energy, focus on what meaningful things exercise can give you.  
If I can help you in any way personally, please contact me!
Until next time,
Pamela Brown
Personal Fitness and Wellness Coach