Data compiled by CNBC for 28 US housing markets dramatically illustrates how all real estate is local, with changes in sales, prices, and inventory jumping wildly from market to market. It also illustrates national trends. Most markets are showing increases in sales and prices, but ALL are showing a delcine in the inventory supply of homes for sale, with many down dramatically. That indicates a strong seller's market in most of the country, something that we haven't seen in a long time... something that should make sellers smile.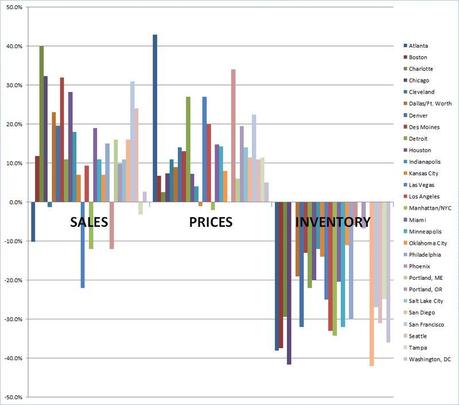 When looking at numbers for individual markets, the Minneapolis area ranks about in the middle, showing a sales increase of 11.0%, price increase of 14.3% and a 32% drop in inventory. Only Manhattan/NYC is falling in all three areas. Track changes on CNBC's interactive Recovery Watch Map.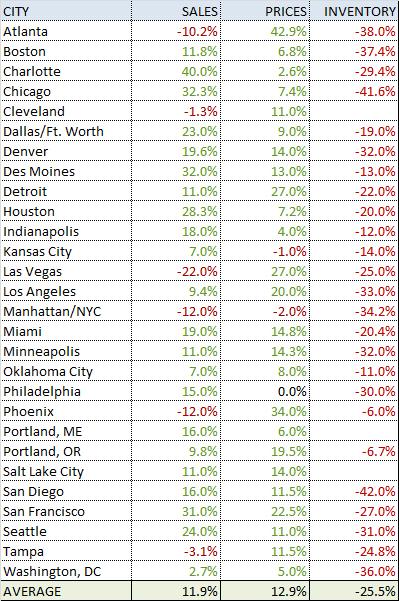 With buyers eager to take advantage of low interest rates before they rise, this could be one of the best markets for sellers in some time. Most people don't expect double-digit price increases to continue in coming years as the market settles into more 'normal' mode.
If you are a seller who has been thinking about selling, this could be a good year... a low supply of homes for sale generates strong competition for good listings which can result in multiple offers... resulting in higher sale prices and more money in your pocket.
Sharlene Hensrud, REM/MAX Results - Email - Twin Cities Listing Agent