Modifying a components library is tedious because it requires one to create and memorize unique part numbers. This lengthy and recurrent data entry task may force small design teams to spend less time on refining their design. It's also prone to typos and omissions. However, necessity is the mother of invention.
The Automatic Part Number generation is the latest breakthrough in the BOM software industry. College and university engineering students use this feature to generate automatic base component numbers.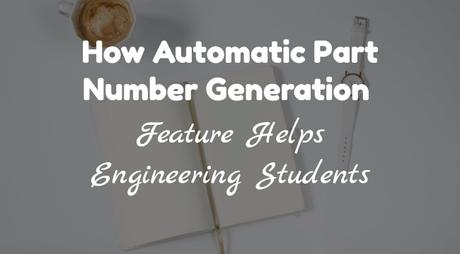 Here are unusual ways the automatic part number generation feature simplifies BOM assignments:

1. Reduces the need for coding
In the past decade, engineering students had to create automated number generation applications using computer programing languages such as C++ or Python. Coding is a challenging skill that requires a lot of practice. Students spent a lot of time typing commands and ran them.
Students using modern BOM software can export a list of component parts without the need of an external application. The automatic part generation feature creates new component numbers once the electrical designer types in the details of a new addition to the parts library. This feature allows you to download an updated list of components in Microsoft Excel format then save it in your email address or cloud storage accounts.

2. Simplifies library component classification
The automatic part generation feature allows engineering students to create user-defined tags. This tag makes it easier to track specific files located in the 'Revisions' tab. It also makes it easier to create reference lists of materials for similar projects.
A reference list benefits students in two ways. Having archived reference lists reduces the time spent on creating new BOMs. For instance, a final year engineering student can compile a new BOM within a few minutes using tagged reference lists dating back to freshman year.
Reference lists also double up as studying aids for engineering students about to sit for a practical exam.

3. Helps students avoid wrong data entry
The tags you create using this feature ensure that all data adheres to your definitions. This automatic enforcement eliminates the occurrences of double entry. It also makes it easier to identify new additions from old library components.
Errors in data entry may lead to wrong project costing, relying on parts that are unavailable, and, incompatibilities with manufacturer's approach to mass production.

Some college professors require engineering students to use specific numbering formats for their components library. If you realize midway into your project that your part numbers do not comply with the professor's instructions, just count on the automatic part number generation feature.
All you have to do is edit the tags then update your changes.

Using the automatic part number generation feature ensures that you keep track of multiple library components by merely grouping them using custom tags.
Do you need additional explanation on this topic? Feel free to post your question in the Comments section below.