Since moving into my one-bedroom apartment early last year, the dining room has been the least important space-mostly because it didn't really exist. And that didn't really bother me.
But after spending more time in my apartment in recent weeks (the upside of my redundancy/career break) and having not yet found myself a couch that fits in the elevator, I decided to turn my attention to creating a dining area-ideally without making the space feel smaller.
A quick look at my Pinterest board for 'Home' shows that when it comes to the dining room (and the lounge, kitchen and bedroom), my style is ever changing-I've saved everything from an eight seater wood dining tables surrounded by multi coloured mismatched chairs, to velvet chairs, sleek bench seating and light-coloured round wooden tables.
Images via Pinterest.
But as I'm renting I'm limited by a few things; I can't hang anything on the walls; I can't repaint and I can't change the lighting. Plus I have a cupboard of shoes in the living room (I like to think of it as a work of art).
Thankfully, the team at Matt Blatt Fortitude Valley came to my rescue and together we found a way for me to have my table and eat at it too-all without losing the open plan feel.
Every time I visit the Matt Blatt Fortitude Valley showroom it's like going on a mini adventure because there's so much to see, touch and sit on-including a giant Moose, life-size Camel, pink poodle and sparkly unicorn. The word eclectic doesn't even cut it when it comes to describing the furniture and homewares on offer.
It was all the colour that caught my eye when walking past a few years ago. Talk about a dopamine rush.
Despite all the colour on offer, I decided to keep my new dining room look classic and neutral to account for my ever-changing taste and settled on the Sean Dix Molly Round Glass Dining Table with walnut legs to match my grandma's vintage Buffet which I'm using as a TV cabinet as my feature piece.
BEFORE: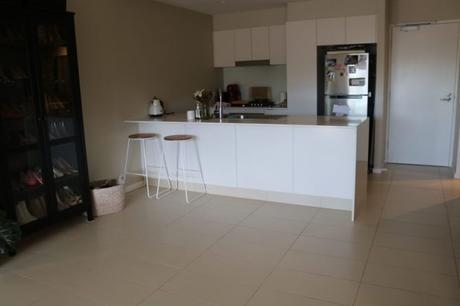 AFTER: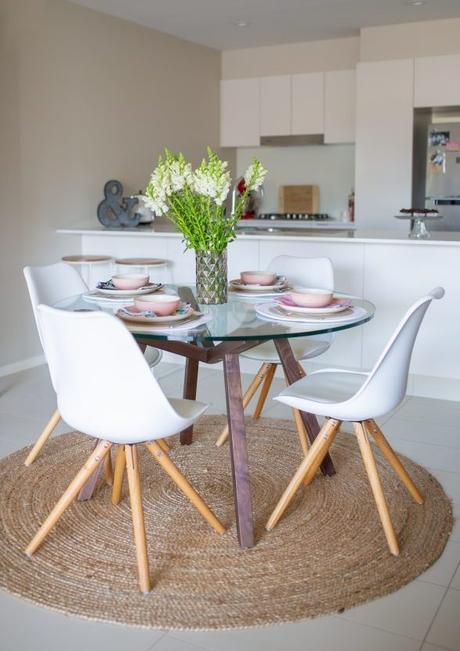 Because of the limited space (and the fact a big couch will eventually arrive - fingers crossed) I decided a round table was a better fit than a rectangle or square, and the glass top gives a clean, 'invisible' effect when not in use (covered in clothes or food).
I finished this look with some Replica Eames chairs in white and a round jute rug.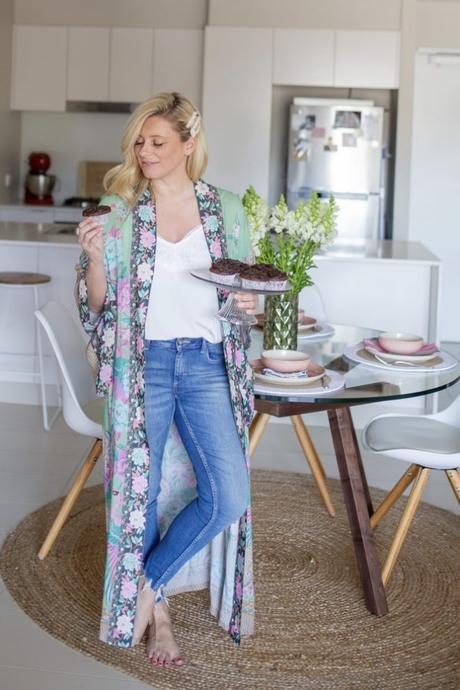 If you've been on Pinterest or Instagram lately, you'll recognise the Eames chair instantly in style if not in name. They're super comfortable (handy for long games nights), easily wipeable (a must when you've got little kids or you tend to goop like I do!), and Matt Blatt have a number of different variations (wood or metal legs; woodgrain, plastic or fibreglass, and there's even a variety of colours available).
Get the look:
Sean Dix Molly Round Glass Dining Table || Replica Eames Premium DSW Side Chair in Plastic || Almond Round Rug
Decorations: Dinnerware: Kmart | Napkins: Gorman | Placemats: Pillowtalk
While I was visiting the Matt Blatt showroom (and bouncing from couch to couch),, I found so many other pieces to love, if only my apartment had more rooms and useable wall space!
Here are 10 of my favourite pieces from the current collection:
Lexington Velvet 3 Seater Sofa (If only this would fit in the lift!) || Soren Black and White Bone Inlay Side Table (I brought this one home with me!) || || Hydrangea Harriet Framed Print || Luxe Brass Mirror Oval Bar Cart || Juliette Flat Woven Rug || Travel Japan Framed Print || Lippy Hand Embroidery Cushion || Ariel Bone Inlay Cabinet || Jazz Lamb Fur Rug || Thereza Hand Embroidery Cushion
If you'd like to see more of my home, or for me to feature more homewares among the fashion, let me know in the comments below.
This post was created in collaboration with Matt Blatt, however all thoughts and opinions are my own.
For more information, see my disclosures .