Ah, Hourglass. Why must you make such drool-worthy products? The packaging is always stunning, the quality of the products divine, and the price tag…well, more than I'd like to spend. Some of you may remember last year's highly coveted Ambient Lighting Powder Palette, which was such a hit that it made a permanent return a few months after it completely sold out. Well, this year's insanely hot Holiday hit is the Hourglass Ambient Lighting Blush Palette! I actually wasn't a huge fan of the finishing powders, but I grabbed the blush in Ethereal Glow when it came out (see my review here) and fell in love. Obviously, I had to grab the Blush Palette! To sweeten the pot even further, one of the shades is Mood Exposure, which I have been debating for quite some time now. Three blushes in a gorgeous palette for just a smidge more than a single blush? Yes, please!!!

J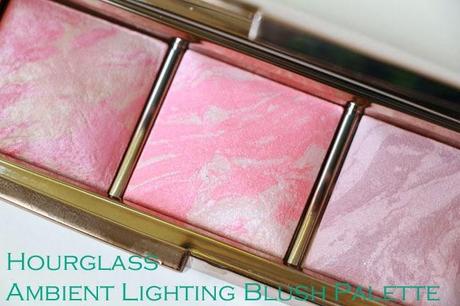 As I said above, I absolutely adored the Ambient Lighting Blush in Ethereal Glow, but after a month or two of using it frequently, I decided I prefer it as a glowing highlight on top of other blushes. That particular shade is not terribly deep, but it really does create such a delightful glow on the skin. It's absolutely divine as a cheek highlighter, but just ok as an actual blush due to the light hue. Given that, I have wanted to try another shade, but didn't really want to shell out another $35 for yet another single blush. Hourglass must have known about my dilemma and decided to make all of our Holiday wishes come true with three gorgeous shades of Ambient Lighting Blushes all in one stunningly beautiful palette!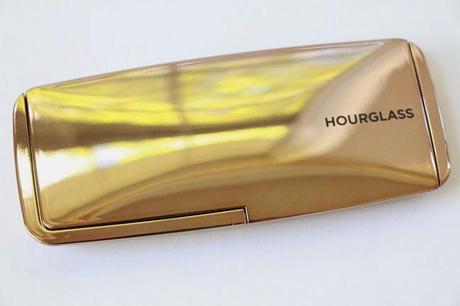 The Ambient Lighting Blush Palette, much like last year's Ambient Lighting Powder Palette, comes in a sleek and shiny mirrored gold case (that attracts fingerprints like no other!). It just feels luxurious. Who cares what's in it!

J

Actually I do care, but seriously, Hourglass has the elegant packaging down pat. Open the palette up and you will find a mirror that spans the length of the compact – very handy – and three shades of blush all lined up in a neat little row. There is a gorgeous rosy shade called Luminous Flush (permanent color), a lovely peachy shade called Incandescent Electra (only available in this palette!), and the lovely neutral dusty plum that is Mood Exposure (also permanent). What more could you really need?!? All of these shades have good color payoff and the texture and finish is just stunning.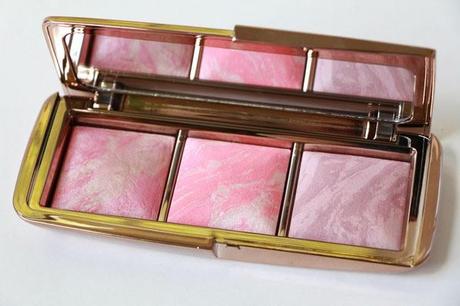 In case you're unfamiliar with these blushes, let's talk a bit about the formula itself. Hourglass has mixed their wildly popular Ambient Lighting Powders, which are intended to mimic a variety of lighting scenarios to blur and perfect the skin, with beautiful blush pigments for a natural, healthy flushing glow. Each blush has a corresponding powder intended to mimic such lighting conditions as mood, dim, and radiant to name a few. These same light-mimicking powders are marbled among the blush pigments for the perfect finish every time. The texture is incredibly soft and silky. They manage to seamlessly meld with the skin for a healthy, natural radiant flush. The Ambient Lighting Blushes are a truly unique formula that actually does create a lit-from-within quality.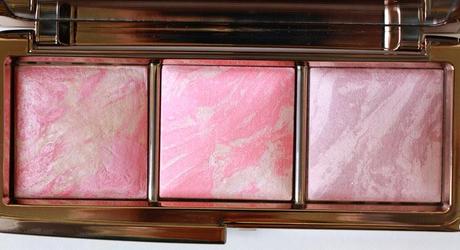 Let's get back to the Limited Edition Holiday Palette since it is the topic at hand! The colors are absolutely perfect. There is something for every occasion, which makes this palette an even bigger must have. There is a rosy shade called Luminous Flush that is described as "A champagne rose blush fused with Luminous Light to evoke a candlelit glimmer for day or night." The peachy-pink shade in the center is called Incandescent Electra and is exclusive to this palette. It has subtle sprinkles of incredibly fine micro-shimmers when swatched, but they are not noticeable on the cheeks. Hourglass describes this shade as "A cool peach blush blended with Incandescent Light for a celestial glow." Finally there is Mood Exposure, which is just a stunning neutral plummy shade that is described as "A soft plum blush fused with Mood Light to brighten the complexion." All the blushes are well pigmented and create a nice glow. They are not terrible deep blush shades though, so they will probably show up mainly as a glowing highlight on skin tones deeper than a traditional medium.As I mentioned, the Incandescent Electra swatches with the tiniest bit of sparkle, but it doesn't transfer to the cheeks. The rest are certainly not matte, but they don't have a noticeable shimmer or glitter either. It's a unique finish that really does just make you look naturally radiant!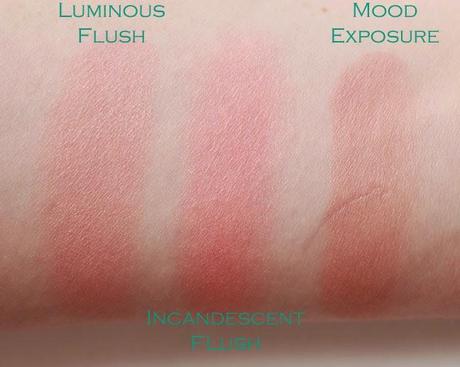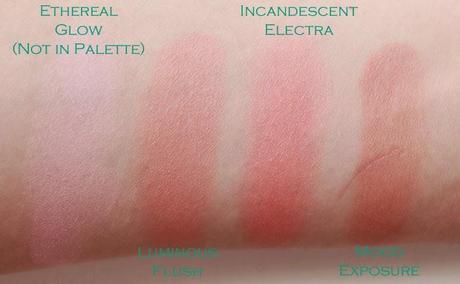 The blushes in the Ambient Lighting Blush palette are a great size as well. The full size single blushes contain 0.15oz of product and retail for $35 a piece. In the Palette, each blush pan contains 0.116oz – not a drastic reduction in quantity. The blushes in the palette will definitely last a good long while, especially if you like to switch up your blush shades. So for a retail price of $58 for the 3-pan Blush Palette you receive a total of 0.348oz of product – more than twice that of a single blush! Not only is this a great way to try some of the Ambient Lighting Blushes, but it is definitely a fantastic value and the shade selection is ideal. It's genius!

J

If you're debating whether or not to get the Ambient Lighting Blush Palette, don't wait and regret it once it sells out. These suckers are likely to go fast, so drop some heavy hints for Holiday gifts, or snap one up yourself because this is truly a work of art disguised as a beautiful blush palette!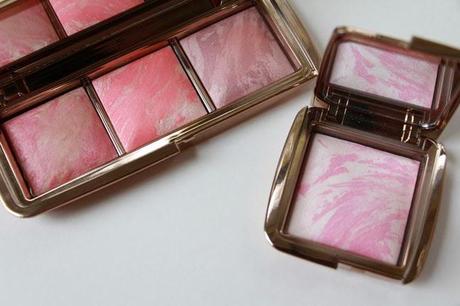 The Ambient Lighting Blush Palette retails for $58/56
£
and is available from

Sephora

,

HourglassCosmetics.com

, and

SpaceNK

 in the UK.