To celebrate Cinco de Mayo, following the Tipsy Vegan cocktail I enjoyed at my brother's watching the Kentucky Derby (I wasn't in the mood for the mint julep...) my husband and I met four of our closest friends at a true hot spot in White Plains,
Sofrito
.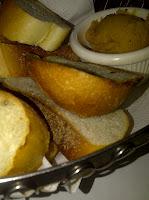 Toasty bread with pumpkin
and white bean dip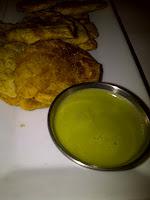 Fried plantains with garlic
aioli
This restaurant and night club, featuring traditional, flavorful Puerto Rican fare, was the backdrop to a great night out.  I even danced the salsa!  (Well, I tried to anyway...) To read more, click this link for my post featured in the Bedford Patch!
http://bedford.patch.com/blog_posts/dining-out-in-westchester-sofrito-in-white-plains