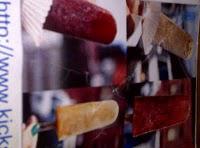 Yes - this is sideways...
no clue why but I can't turn it!
I was at South Street Seaport on the eastern "shore" of Manhattan last Sunday and it was just brutally hot.
Did I just saw brutally hot?  Well, I chose to eat lunch outside anyway and maximize my tanning potential.  We settled on Red on Fulton Street.  We shared their homemade guacamole, and then I enjoyed a delicious salad with red onions, roasted peppers and pepitas in a lime vinagrette.  I was desperately thirsty and went through multiple glasses of ice water, but of course also had to try their cold, cinnamon-y glass of red sangria.
We wandered the streets and the Pier for a while, and browsed the farmer's market-type stalls outside in the shade. It was a couple of hours later, and though we were heading back to meet friends for dinner, we needed something cool to eat.  We came across a vendor selling
brewlabars
~ ice pops at 100 calories or less.  The have 5 flavors: The Hero (cherry-pomegrantate red tea with an immunity boost), The Doctor (root beer with 10% calcium), The Lullaby (peach-ginger white tea with a calming boost), The Remedy (raspberry-green tea with an anti-oxidant boost) and The Buzz (a sweetened espresso with chocolate covered espresso beans and an energy boost.)  None of the pops are dairy (though I didn't ask about the chips) and they were so refreshing.  Check them out on-line to see if you can find them near you, or just head back to South Street Seaport this Sunday!