These Hot Cross Buns are updated with chocolate chips instead of raisins. These buns are traditionally eaten on Good Friday.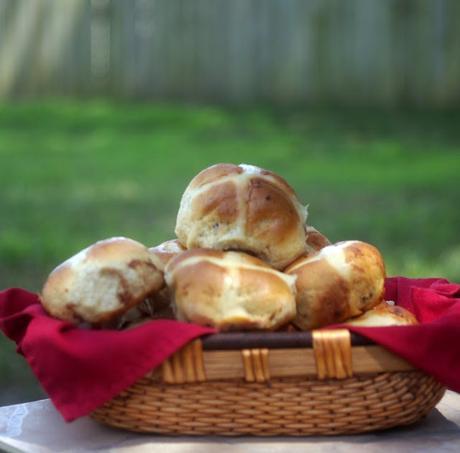 These spiced melt in your mouth buns are marked with a cross to represent Christs suffering and Crucifixion. Good Friday has always been a day of fasting and repentance. It is understood on this day we should eat one full meal and two smaller snacks if necessary. Today we also abstain from meat.
In England from the end of the fourteenth century these buns were baked with a cross on them. These buns go back to the 1300 and started at Saint Albans Abbey in England. They were always served on Good Friday. It is believe in 1592, Elizabeth I  issued a decree that these spiced buns only be served during Good Friday.
I made these Hot Cross Buns with chocolate chips instead of the usual raisins. I serve these for breakfast, they go so well with a hot cup of coffee or tea. I did try to make the cross in the traditional way. It is doubtful that they actually used icing over the top to make the cross shaped back then. I am also certain that chocolate chips were not around either. If you wish to make these more traditional then by all means substitute the chocolate chips for raisins.
Either way you make these, I wish you a blessed Good Friday.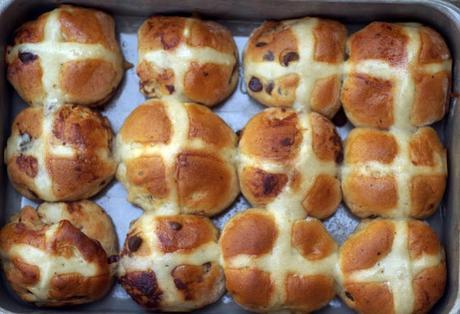 Print Recipe
Hot Cross Buns
Ingredients:
3/4 cup warm water
2 teaspoons dry yeast
1 tablespoon powdered milk
1/4 cup maple syrup
1/2 cup oatmeal
2 1/2 cups flour
2 tablespoons butter
1 teaspoon salt
1 teaspoon apple pie spice
1/2 cup chocolate chips
Cross Paste
1/4 cup flour
1/4 cup water
Glaze
1/2 cup orange marmalade
Directions:
Combine the warm water into the bottom of your mixer. Add the yeast and allow to sit for about 5 minutes. It should get bubbly. Meanwhile, butter the inside of a large plastic bowl.
Use your dough hook attachment and on low speed, add the powdered milk and the maple syrup.
Mix for a minute or two then add the oatmeal, flour, butter, salt, spice and chocolate chips. Continue kneading scraping down down sides of your bowl and the dough hook if necessary, about five minutes. Add chocolate chips and knead with dough hook until incorporated.
Knead into a ball and place in prepared buttered bowl. Cover with a clean towel and allow to rise until doubled in size about 1 1/2 to 2 hours. Turn dough onto work surface and make into a log. cut log into 12 pieces. Form into balls and place into a buttered baking dish (I used a 9x13). Again allow to rise until doubled in size, about 1 1/2 hours.
Preheat oven to 350 degrees.
Here is how I made the crosses on the top.
Mix flour with water. Put the cross paste in a pipping bag, or you can use a ziplock bag with a cut at the end.
Pipe crosses on the top of each bun.
Bake in the oven for 15-20 minutes or until golden brown.
Put the marmalade in a medium bowl and microwave for 30 seconds, or until warm.
Brush heated marmalade over buns.
Peace be with you,
Vonnie