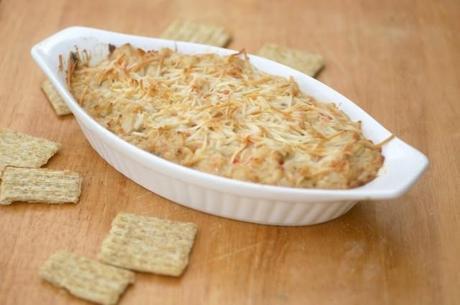 The first time I had this recipe my sister-in-law Janet made it. She took her crab dip out of the oven and warned all of us it is hot. I know I heard it, but I dipped my cracker into that yummy dip and commenced to burning my tongue. Well. not just my tongue, but the whole roof of my mouth. It hurt so bad that I actually thought about spitting it out to stop the burning. I reached for the glass of ice water and as I was drinking, I think I actually heard a sizzle as the cold water cooled my burning mouth.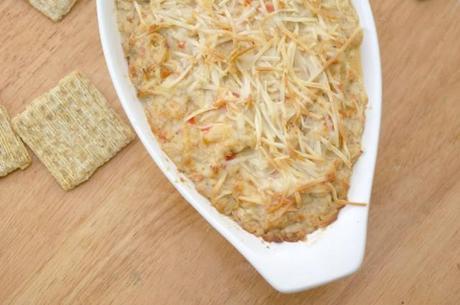 So every time I make this or go to a party that serves this, I think about my poor mouth. I will have to say that I think it was well worth the hurt. This crab dip is fabulous and I think it would a great recipe for any of your functions.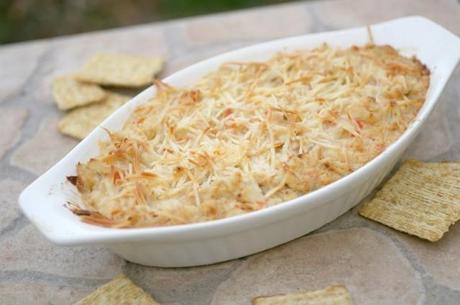 Print Recipe
Hot Crab Dip
Ingredients:
3 tablespoons unsalted butter
1 tablespoon olive oil
1 red pepper finely diced
2 cloves garlic minced
1 shallot diced
2 tablespoon flour
1 cup cream
1 cup grated Parmesan
1/2 tsp salt
1/2 teaspoon black pepper
1 tablespoons worcestershire sauce
1/2 teaspoon Old Bay Seasoning
1 lump crab meat picked clean of shells
Directions:
Preheat oven to 350. Butter a 8x8 dish or casserole dish.
In a 12 inch skillet Add olive oil and heat over medium. Add the bell pepper and shallots and cook until translucent about 5 minutes. Add the garlic and cook another minute or two. Add the flour and cook for about 3-4 minutes. Whisk in the heavy cream until the mixture begins to boil, for a minute or two. Lower the heat to a simmer, cook until thick another minute. Remove from the heat. Add 1/3 cup of the Parmesan, salt, pepper and Old Bay. Gently fold in the crab
Transfer to baking dish. Sprinkle the top with Parmesan and bake for 25-30 minutes or until golden brown.
Serve with crackers.
Peace be with you,
Veronica