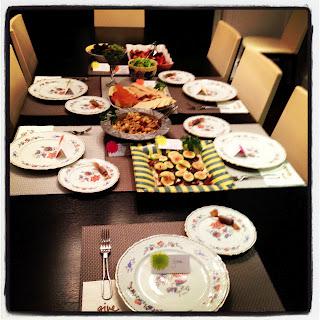 I'm going to be honest with you.  I don't care what your friends eat.  If they are coming to your house,  and you are going to the effort of hosting, they should eat like you!
Last night I hosted my fabulous bookie babes (aka, my book group) to discuss "The Lost Wife", an incredibly beautiful love story set against the backdrop of the Holocaust (just in case you are looking for something compelling to read.)
Not one of them is vegan...and they loved it!
Here's what I served:
Cauliflower with capers, pine nuts and golden raisins
Shaved brussel sprouts (blanched) and mixed with avocado and sauteed onion
Crackle bread topped with a shmear (a swipe) of tofutti cream cheese, sauteed purple onions and slices of fresh figs
An assortment of crackers (sea salt & olive oil ~ yum!)
Roasted red & yellow beets, rutabega & celery root
Mixed berries
Red, purple & green grapes
A vegan Seattle Sweets caramel on each dessert plate
Mouth watering yet?  I also made a cocktail to accompany everything ~ tequila mixed with apple juice & a raspberry-apple juice!
When are you hosting next?  Let me know what you make when you do!