Having people over shouldn't totally stress you out or completely drain your wallet. Here are some helpful tips: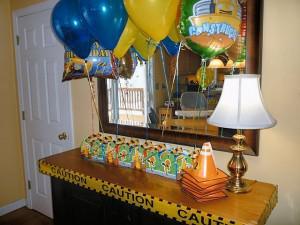 A week or two before the event, make a list. Try to do one or two items at a time, rather than leave everything to the last minute. You can do things such as buy the drinks or the crackers for the cheese and crackers way in advance.
Cook ahead of time. For my son's birthday party this past weekend I made a chili. I put everything in the crock pot Friday night before I went to sleep and it was ready for our family gathering Saturday afternoon.
Don't be afraid to ask other people for help. Maybe your Mother-in-law could watch your children while you clean or your spouse could pick up some of the supplies. If someone offers to bring something, take them up on it. They wouldn't have offered if they didn't mean it.
Even if your house isn't perfect, try not to stress out about it too much. Your guests will understand. With two young boys and a dog, it's just impossible to keep our home clean for very long.
Decorations don't have to cost a fortune. Get creative. For my son's truck party, I hung yellow and black caution tape everywhere.
What is your best tip for hosting a gathering, get-together or party that is enjoyable & stress-free for both the host and guests?
Please visit the main post on BlogHer.com
and remember to join the current sweepstakes.