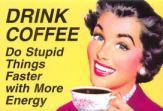 Every year I do a post around this time about dealing with the Friend and Family Food Police at the holidays.  This year instead of posting that here, I've made it my first post in Fierce Fatness, my new column for Ms. Fit Magazine  You can check it out here!
In the meantime, I thought I'd discuss some of the ridiculousness that circulate around the holidays. Each of these is taken verbatim from an article that I'm absolutely not linking to:
10 Holiday Diet Tips You've Never Heard Before!
You've totally heard these tips before, probably in the same forum in which you are currently reading them, exactly a year ago, and the year before that, and the year before that, and the year before that.
Start Our Program Now and Get a Head Start on Your New Year's Resolution
If you start earlier, you can fail at weight loss sooner while giving the diet industry (who are fully aware of the massive failure rate of their product) a boost on their fourth quarter earnings.  Or, you know, not.
Eat a Big Bowl of Fiber Cereal and Drink Lots of Water Before A Party to Avoid Snacking.
Spend the party in the bathroom with your friends awkwardly knocking and asking if you're ok while you miss out on delicious snacks.
Buy Your Party Dress a Month Early and a Size Too Small for Inspiration to Lose that Last 10 Pounds
Frantically search through your closet on party day for something, anything, that's party appropriate, end up going to the party uncomfortable in a dress that's too small.
Save Your Calories For the Party by Eating Light During the Day
Show up at the party absolutely ravenous, bribe a cater waiter to get your hands on an entire tray of shrimp puffs, scarf them in the bathroom.  
Make low-calorie egg nog with skim milk, egg substitutes, and artificial sweeteners.
Oh…I just…I can't even…Just No.  Ok, by the underpants rule you can totally make this beverage if you want and I will support you in drinking it, as long as you support me in not drinking it.
Only Eat Desserts that Are Sensual to You
I think that this author may want to examine her relationship with food.  Either way,  I don't find orange sherbet to be sensual at all but I will eat the hell out of it.
Don't Taste The Food While You Cook
Serve your guests lovely-looking appetizers that taste like a salt lick.  The person who wrote this article obviously never watched Hell's Kitchen.
Choose Foods that Won't Make You Feel Guilty the Next Day
Here's the super secret trick to guilt-free eating:  Eat.  Don't feel guilty about it. Done.
Bring Fruits and Veggies to Parties and Work and Remind People About Their Weight Goals, They'll Thank You!
They will not thank you.  They may, in fact, plan your untimely demise. There's nothing wrong with bringing fruits and veggies to the party, there may well be  something wrong with being what we Southerners call a "superior sumbitch," you may be able to avoid that by skipping the second part of this advice.  Instead consider "Bring fruits and veggies to parties and work and then shut up about it – find something more interesting to talk about than weight goals."
Enjoy Fat Free Mock Versions of Your Favorite Holiday Foods, You'll Never Miss the Full Fat Variety
I will absolutely miss the full fat variety.  I do not think that the words "mock" and "food" should not be put together.
Divide Foods into Naughty and Nice and set a Naughty Limit and a Nice Goal
Use the holidays to ease yourself into a disordered relationship with food.
Don't Read Articles About Holiday Diet Tips
You caught me, this one didn't come from an article, it's my advice – take it or leave it.
Don't forget that I have a shiny new column over at Ms. Fit Magazine –   You can read it here!