Some people are naturally gifted with the ability to pack. They can work out precisely which items of clothing will work together to create the ideal capsule wardrobe. My Mum is one of these gifted people, but I unfortunately wasn't blessed with this virtue. If you're anything like me deciding what to take with you to wear on holiday is actually a nightmare. I always feel the need to take far too much and then don't wear half of it.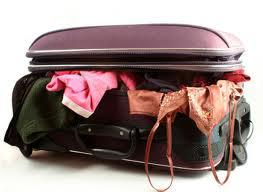 Take too much and you run the risk of excess baggage charges and unwieldy, heavy and cumbersome luggage. Take too little and you end up buying everything when you get there. Your holiday wardrobe needs careful consideration and planning, so when we set off for our honeymoon I enlisted my Mum's help to get us organised and pack appropriately. She gave me some brilliant advice.
Firstly, think about where you are going. Are you going on a city holiday where you'll want to be chic and sophisticated? Are you going on a luxurious beach holiday where you'll probably live in your bikini or trunks for most of the time? Are you going on Safari, where you'll need cool, lightweight clothing or are you going for action packed excitement?
Secondly you need to think about what you will be doing when you get there? Are you going to be doing lots of walking? Water sports? Eating in posh restaurants? Chilling out by the pool? Rock climbing? Sightseeing? All of these different activities will require alternative types of clothing. You also need to be aware of cultural observances if you're sightseeing. For example when we went to Sri Lanka both men and women had to have their legs completely covered when visiting temples otherwise you would be refused admittance. You also couldn't go into the restaurant at the hotel with shorts or cropped trousers on. Make sure you check for things like this as it would be incredibly disappointing for you to miss out on an experience because you didn't have the right clothing.
Thirdly, make sure you are aware of the baggage restrictions for your airline. This can greatly affect what you take with you in order to avoid expensive excess luggage charges. You wouldn't want to have to pay additional fees when you get to the airport because you decided at the last minute to add in that extra pair of shoes. Likewise if you want to bring back some souvenirs don't forget you'll need space for them on the return journey.
Finally, try to pack wisely and think about what you're taking with you, making everything as interchangeable as possible. That way you should definitely have enough with you. I know this is easier said than done so I've developed (with a little help from my Mum) what I think is a failsafe guide to the ultimate capsule holiday wardrobe for a week. Don't forget to mix and match and adjust depending on where you are going and what activities you might be enjoying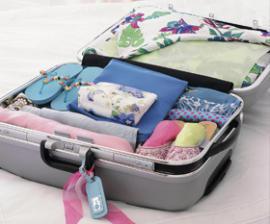 Ladies
1 pair jeans or khakis (for cold airports and the plane)
1 light jacket or pullover (take one that can be tied around the waist or stuffed in a backpack)
1 nice sundress
1 little black dress
1 cardigan (for chilly restaurants)
4 tops (T-shirts, tank tops, short-sleeve shirts)
2 pairs shorts or linen trousers
2 swimsuits (bikini for the beach, swimming costume for water sports)
1 swimsuit cover-up (a sarong could double up as a shawl for cooler evenings)
1 pair walking shoes/sandals
1 pair evening shoes/sandals
1 evening bag
Extra socks and underwear
Bras (strapless and otherwise)
Accessories (scarves and jewellery to "stretch" your wardrobe)
Gents
Gentlemen here are your essential holiday items. Again don't forget to think about where you are going and what you'll be doing.
1 pair jeans or khakis
1 pair nice trousers (make sure you take a pair of full length trousers with you as some restaurants abroad will not allow you in with cropped trousers or shorts)
1 light jacket or pullover (take one that can be tied around the waist or stuffed in a backpack)
4 t-shirts
2 pairs shorts (or cropped trousers)
2 polo or short-sleeve shirts
1 sports jacket (for nicer restaurants)
1 pair of swimming trunks
1 pair walking shoes/sandals
1 pair smart shoes
Extra socks and underwear
I hope you found this useful as it really helps me and my husband whenever we go away now. Happy packing!