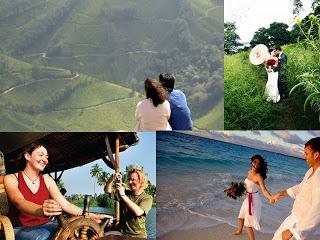 Kerala is a lovely and romantic honeymoon destination, where nature sings it glorious, the music of the backwater surrounds the magical landscape, the gurgling waterfalls disturbs the tranquility of the places but still thousands throng to experience its hidden charm, which is so magical and blissful. Kerala is an ultimate destination to visit for honeymoon as there are several amazing natural attractions to visit, romantic beaches, exotic wildlife park and sanctuary full of flora and fauna, luxurious hotels and resorts and more of all a peaceful and safe atmosphere, which makes Kerala no less than a honeymooner's paradise.
Kerala
Kerala is truly an amazing place to be for honeymoon as it offers multitude of options and host of attractive and interesting things to do and see.
So why not choose the best from all of them and plan your clandestine honeymoon vacation and carry home golden lifelong memories to relish forever.
Honeymoon on Backwater
Kerala is quite popular for its charming and tranquil backwater which is the perfect place to enjoy houseboat honeymoon. The places for such a paradisaical honeymoon experience are Kumarakom,  Thiruvallam, Kuttanad, Alleppey and Quilon. The emerald greenery and the exotic charm of the nature is sure to carve everlasting experience both of you would love to cherish forever.
Honeymoon in Beach Resort
Beaches of Kerala are considered to be the second best destination to plan for honeymoon. The tranquil and vast stretching sandy beaches are ideal place for couples who are looking for to celebrate honeymoon with isolated romance, adventure and leisure. Kovalam is the most sought after beaches among all, as it is considered to be outstanding in Kerala where couples are spotted enjoying fun-filled moments together. Poovar, Varkala, Cherai and Kappad beaches are also quite famous and are quite famous with couples looking for tranquility and nature.
Honeymoon in Hill Stations
Hill Stations are the most popular among all the hill station in Kerala. Renowned for its exotic beauty and charm, the hill station of Kerala like Munnar and Wayanad are favorite among honeymoon couples. The visits to these wonderful and temping hill stations are not just to explore the beauty of nature, but also to experience the appeal of the inviting places of interest and sightseeing attractions located far and wide in the lap of the virgin natural beauty. Ponmudi, Idduki and Neeliyampathy are also quite popular among honeymoon couples for a romantic honeymoon hill station tours.
Beside these wonderful and exciting destinations, there are many other exciting things to do and see. Enjoy visit to the heritage and ancient temples, go for shopping, visit to the museums, take part in the cultural fairs and festivals, relish the heart-throbbing snake boat race, go for spice plantation tours, visit to the exotic wildlife parks and sanctuaries, musical waterfalls and much more. The state Kerala is gifted with incredible appeal of nature and human creativity and the glorious harmony of both make this picturesque state in South India, paradise on earth for newlyweds.
Come and start your married life with full of romance, joy and delights.