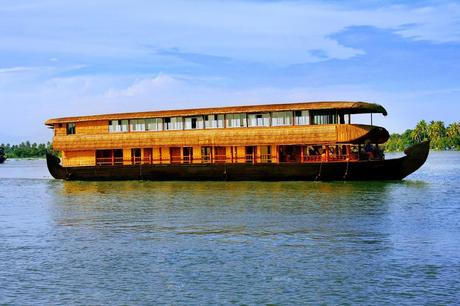 Alleppey also called as Alppuzha is the major backwater destination. It is a paradise for honeymooners and also an ideal place to give a new start to your new life. Alleppey is no doubt a dream destination to the newly married brides.
The backwater tourism in Alppuzha is well organized which truly creates a holiday with no regrets. Each second and every penny in here are worthwhile. There are plenty of luxurious houseboats on the banks of Alleppey. You can take it on hire. Alleppey houseboats are well decorated and designed by both traditional and modern designs. All kinds of needs and facilities available on a boat are available according to the budget. Alleppey houseboat packages are for romantic couples, family and group tours.
Aquamelody Lake Cruise provides various categories of houseboats like luxurious, superior, deluxe and standard. All these various category tour packages are especially designed for certain duration of time. They are of 2 nights 3 days, 4 nights 5 days, 6 nights 7 days, etc. 
You can book any of these houseboat packages according to your budget, the choice is yours. A tour to Alleppey backwater in a luxurious houseboat is a unique opportunity for you to experience the real colors of the god's own country. The above mentioned packages cover almost all the major attractions. Cursing above the charming backwaters with comforting packages becomes a unique experience and more enchanting in Alleppey.
Kumarakom houseboat packages
Kumarakom is also one of the major backwater destination addressed at a distance of 16 kilometers away from Kottayam. Like Alleppey houseboat packages, Kettuvallams in South India also offers fascinating houseboat packages with more or less the same living facilities onboard. Various types of dwelling boats in Keralam Lakes are available in Kumarakom such as single bed room, double bedroom and up to six bedrooms in different budget. 
One can book the boats with air conditioned or non air conditioned. It will be better if you choose the air conditioned as it makes you more comfortable in night. All these facilities come under the houseboat packages. If you really need comforting and high facility services than make sure you book the luxurious one. Not only has this, there are other categories like Alleppey offer, 5 star, superior, deluxe and standard.
There are many more facilities like attached bathrooms, balcony and the major thing are privacy and safety as the management knows the importance of these two things in one's holiday. There are two oarsman as a guide and let you enjoy all the attractions like Kumarakom bird sanctuary, lush green surroundings, paddy fields, fish sanctuary, coconut plantations and many more during a voyage on a boat.
 While cursing above the charming backwaters of Kumarakom, a tourist gets an opportunity to have the glimpse of the sunrise and sunset. Such attractions makes spell bound in no time and makes every tourists come visit again and again. During evening and morning time the visitors get a chance to take a closer look of the Snake boat races which becomes memorable and enjoyable.
Both Alleppey and Kumarakom have been major backwater destinations in Kerala and have been providing the gliding experience on the humid backwaters to the visitors along with the mesmerizing scenes of the palms and the coconut grooves.