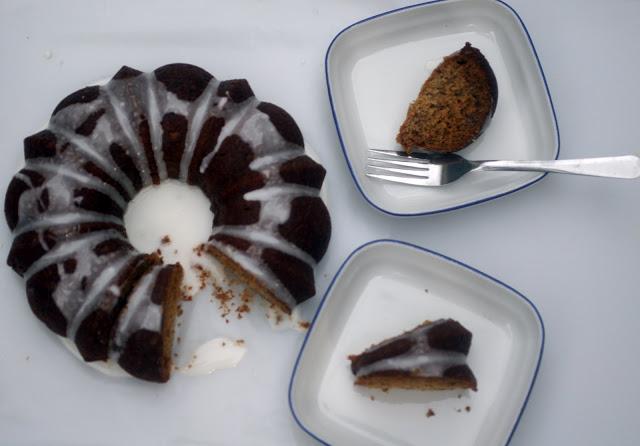 I know what you are thinking!
OH NO NOT ANOTHER BANANA BREAD RECIPE!
Well this is not that, it is way from that!
This is that recipe you use when you have all those extra bananas sitting around the house.
You can dress it up for company in this pretty little bundt pan, or make it in a loaf pan.
This is not your standard banana bread.
It is not as dense as the usual loaf like banana breads.
I think it is the sour cream that makes it so moist.
 It is more cake like, if that is possible.
I am not sure if it is the honey that gives it a brown umber type of look.
 It sort of tastes like there is more brown sugar in it than there actually is.
 This dish is so versatile, if you used bananas that were not that ripe that would be great also.
That is exactly what I did.
I couldn't wait to make this recipe and didn't have old bananas.
 In fact, I had very new bananas and it was fantastic for breakfast.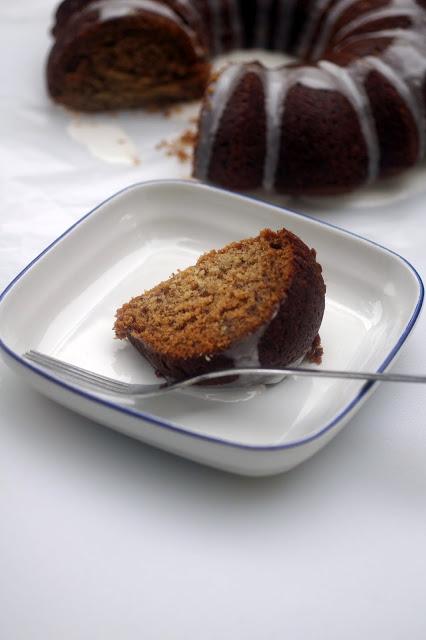 Print Recipe
Honey Banana Bread
Ingredients:
1 stick of butter at room temperature
¼ cup honey
½ cup light brown sugar
¾ cup mashed bananas (1-2 bananas)
½ teaspoon vanilla
1 large egg at room temperature
½ cup sour cream at room temperature
1 ½ cups all-purpose flour
1-teaspoon baking soda
½ teaspoon baking powder
½ teaspoon pumpkin pie spice
½ teaspoon salt
Directions:
Preheat oven to 350 degrees.
Grease a round bundt pan. In a large bowl combine butter, honey and brown sugar. Beat until fluffy. Add Bananas and vanilla. Beat until bananas are incorporated. Add egg and sour cream. Mix until blended.
In a medium bowl combine flour, baking soda, baking powder, pumpkin pie spice and salt. Add the flour mixture about a ½ cup at a time to the butter mixture. Pour into prepared bundt or loaf pan. Bake 30-45 minutes or until a toothpick inserted in center comes out clean. Remove from oven and allow to cool completely. Invert on a plate.
Combine 1/2 cup confectioner sugar and about 2 tablespoons water.
Drizzle over top before serving.
Peace be with you,
Veronica