I did it!  After nearly four years of being vegan, I ate ricotta cheese...well, an almond version, but it was wonderful!
My nutritionist gave me some recipes to try knowing I am a vegan who dabbles with a raw diet.  The recipe below is a modified version of what she shared, as the one she gave me wound up a bit too Dorito-like for my taste.
Now that I have made this once, the possibilities are endless...how about a white pizza topped with this ricotta, fresh spinach and Daiya shredded mozzarella?  Vegetable lasagna?  Baked ziti?  It would serve as a nice dip for sliced pears and apples drizzled with agave nectar or on a crusty baguette topped with carmelized onions!  For those of you about to celebrate Passover, leave out the nutritional yeast and spread it on matzah with some jelly...yum!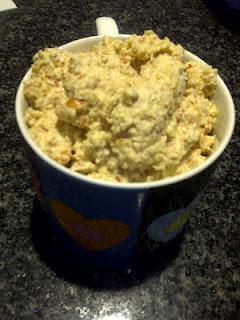 To make my version of this recipe you will need:
 2 cups raw almonds, soaked in water overnight
1 cup water
1/2 cup lemon juice
1/4 cup nutritional yeast
1 1/2 tsp garlic powder
1/2 TBSP pink salt
After your almonds have soaked in water over night (I kept mine in the refrigerator for 24 hours), put them in a cuisinart, blender or vitamix with water and lemon juice and puree until smooth.
At that point taste the mixture and see how it's coming along.  Every palate is different, so just a touch of salt and pepper might be enough to finish it for you.
As for me, I'd recommend putting the almond mixture in a bowl and, with a rubber spatula, mix in the nutritional yeast*, garlic powder and salt.  The original recipe called for twice the amount of nutritional yeast and garlic listed above so you can always add more.
(I was in the mood for a snack when my batch was done so I ate a little bit with some tortilla chips.)
Enjoy!
*NOTE: Nutritional yeast is not baking yeast so do not confuse the two!  See someone at your local health food store for help if you are buying this for the first time.