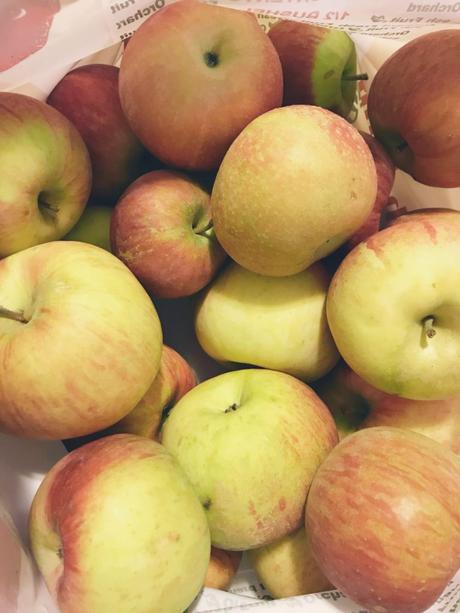 Last weekend, we went to Apple Dave's Orchard upstate in Warwick, NY thanks to the invite and recommendation from some of our Brooklyn friends. We had an awesome time got tons of apples as well as pumpkins, listened to music, saw a puppet show, ate food, and enjoyed time with friends. The orchard also had an awesome selection of cider, wine, mead, etc for those who aren't planning a two hour drive home! I loved that while this orchard was busy, it didn't seem too overcrowded, the lines were short, you never really had to wait (unless you got to the orchard super late, and there was a line to get in - we got there by noon and it was no hassle). I also loved the small town feel of this orchard, and I would definitely return!
A few years back, I tried my hand at making apple butter. I don't branch out to make these types of things from scratch often, but the kids were really excited about helping me so this year, I decided to try out applesauce.
Minus the fact that I forgot my food processor was broken and I had to transfer to multiple blenders, it actually ended up being pretty easy to do and the boys even helped me chop up some apples to put in the crock pot!
We added some strawberries to make it a little more interesting, and kept the ingredients healthy! It ended up being darn delicious, and I have to say, I'm pretty proud we pulled it off!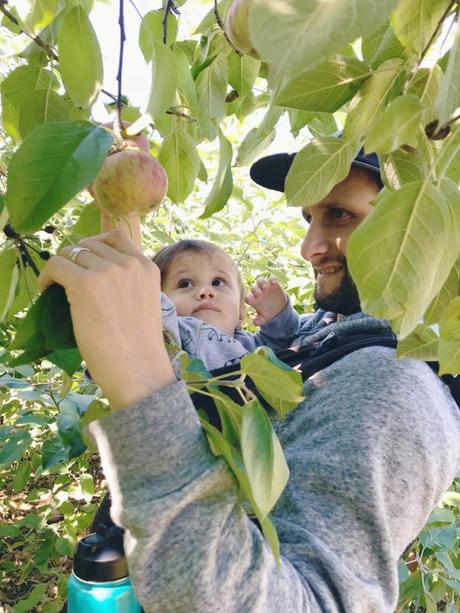 Ingredients:
*8-10 medium sized organic apples peeled and cored - the apples I used were VERY easy to peel. However, the skins have great nutrients and you COULD leave them on if you want to save time
*8-10 organic strawberries sliced (optional)
*1/2 cup water
*Ceylon cinnamon or pumpkin pie spice (I used both) to taste)
*10 second drizzle of raw local honey (optional)
Directions:
Place all of the ingredients in a slow cooker. You can cook on low for 6 hours or I cooked mine on high for 2 hours. At this point the apples will be very soft. I transferred them to a blender/food processor and blend until they are your desired consistency. Voila! You can store in the refrigerator for about 7 days, and you can also freeze it.
Looking back at this, it was pretty easy, and maybe just maybe I will do it again sometime. 😉
Are you heading to the apple orchard this fall? What are you planning to make? Would love to hear your recipes!
XO,
Gina