Its after a long time i am doing a 'Home Made' post.
Today its about a Face Oil which is not only a good skin moisturiser but has anti acne and anti ageing properties too. After finishing my Iraya Oil, i did little research on benefits of Aromatherapy and essential oils. I made a small batch of this OIL and since then i am using it since long and believe me i just can't stay without it.
So its high time to share the recipe with my readers too.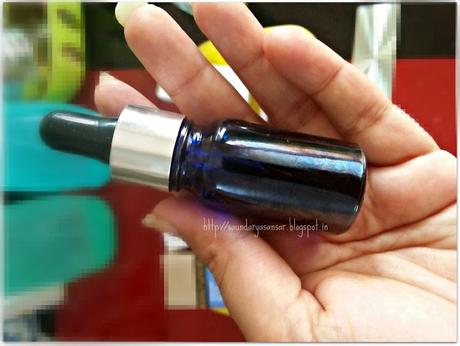 1. an empty tinted glass bottle (to prevent the oil getting oxidised)

For facial skin care, rose hip oil offers several benefits when applied externally due to its primary constituents: essential fatty acids, vitamin E, vitamin C and B-carotene, a form of vitamin A. It has anti-aging benefit due to the antioxidants and the oil's ability to penetrate into deeper layers of skin. Its considered as dry oil & hence good for oily/sensitive skin. Read review of Moksha Rosehip Oil here.
You can buy Rosehip oil from here & here.
Grapeseed Oil (2 Drops)- Regular application of grapeseed oil will basically deliver a good amount of astringent which is useful for skin toning and tightening. hence people with oily skin can take the most of grapeseed oil's advantages. The antioxidant properties contained in grapeseed oil are excellent for minimizing skin aging, the oil may help to reduce the appearance of those signs by providing moisture and enough protections against free radicals.
Argan Oil (2 Drops)- Argan is one of the rarest and unique oils in the world. it is known for its healing properties. Also good in controlling over production of sebum and hence good for oily/acne prone skin. It also boosts skin elasticity while smoothing wrinkles and lines. Read review of Nyassa Argan oil here.
Evening Primrose Oil (3 Drops)- has high concentration of Anti oxidants hence revitalises skin cells. Provides required hydration & promotes elasticity to keep wrinkles away.
People with combination(dry patches) skin can even add Almond oil (2 drops)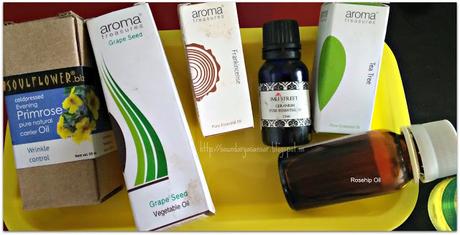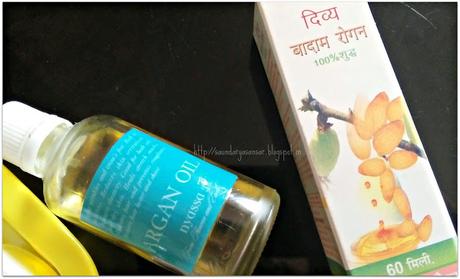 Tea Tree Oil (5 drops)- Known for its bacteria fighting & oil reducing properties so good for Acne prone skin. Buy tea tree oil here & here.
Frankincense Oil (3 drops)- known as king of oils, has antibacterial and anti inflammatory properties. It helps in skin rejuvenation and healing of scars/stretch marks. Acts as a natural toner-shrinks pores. Buy Frankincense oil here & here.
Geranium Oil (5 Drops)- helps regulate oil production and reduces acne breakouts. It also helps improve skin elasticity and tighten skin, reducing the appearance of wrinkles.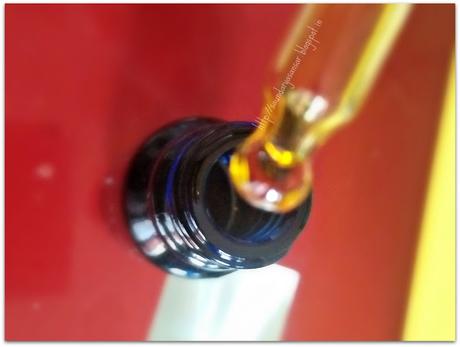 Mix the oils in the given proportion and store in the tinted bottle (in a cool & dry place, away from sunlight)
As i have always insisted, follow the 3 drop rule. Take 3 drops on your palm and rub to warm it up and apply in upward direction on your face.

If your skin is little damp, its better as the oil sinks in properly. I Love its Geranium mix Frankincense smell. its little warm and slightly tingling but not to worry as it wont harm.
This concoction is a boon for my skin, not only it has imparted glow to my skin but has helped in keeping my skin care worries at bay. Usually when i am home, i just apply this and i dont need any moisturiser or something else.
I usually apply this every morning and night after washing my face.

Try this DIY face oil and tell me if it worked for you.