So here I was enjoying more than my fair share of pumpkin pie. YES it was early, and YES I know I should have waited until AFTER dinner to eat it.. but honestly if you're going to cheat you better make it worth while! But anyways, during this intense emotional eating experience, my eyes wandered over to my computer screen and suddenly I choked! My savory piece of pumpkin perfection was lodged in my esophagus, causing me to create a scene. What was it I had seen? YEP. You guessed it. The blissful image from Barneys.com below. Don't worry, as soon as I made it to my computer the pie had made its way south to my stomach and all was resolved. Let me tell you, it was a SENSATIONAL scene. I forgot to mention the best part. It's a men's sale too! Thank you to all my male readers who have been so patient with me.. sometimes it's hard to find a good deal for you! But trust me, I'm trying. Needless to say, the one below is pretty incredible.. so much so, that I would suggest devising a plan to sneak away from the table to check it out.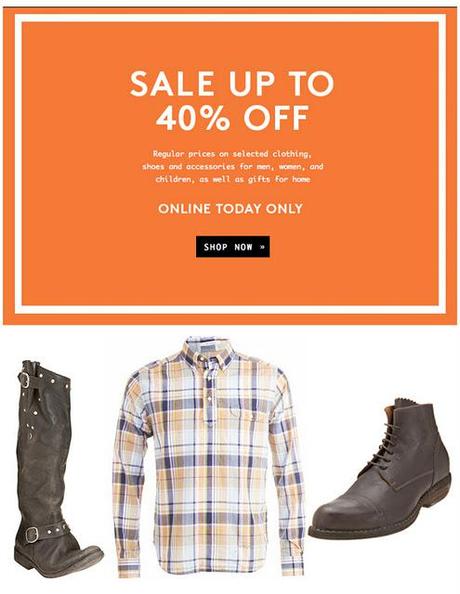 1. Golden Goose 131 Kate Boots (Women's)
2. Gant Rugger Madras Pullover Shirt
3. Florentini + Baker Carl Shoe
And since I had a near death experience earlier (that might be stretching the truth JUST a little) trying to digest (literally) how awesome this sale is, I'm going to save myself from any further health scares and just tell you that it might/definitely/probably/really/totally would be in your best interest to check out what Shopbop is calling "THE event of the season". I'm just saying... it MIGHT be worth checking out.