Today we made the fantastic discovery of Holy Basil while pottering around the Manchester Food and Drink Festival. We'd only nipped in briefly on an afternoon off, and didn't really have a plan about what to see/try. After the obligatory burger from the Savin Hill Farm stand at St Ann's Square we headed up to Albert Square to the main festival hub.
After wandering around the square a couple of times the place that stood out to us the most was Holy Basil. 
The menu was written on a white board at the back of the stand and their dishes included Beef Masaman Curry, Jungle Curry, salads and satay. It was the Masaman which took our fancy, which we were told would be ready in 5 mins. After a quick half pint of Chocolate Tom we returned for the curry.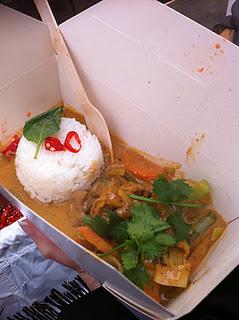 We got to chatting with the stall holder, first about the ingredients - their kaffir lime leaves come from the chef's own garden and smelt like nothing we've smelled before. A far cry from the only ones we've managed to find - dried in packets in Sainsbury's. But then about the business itself.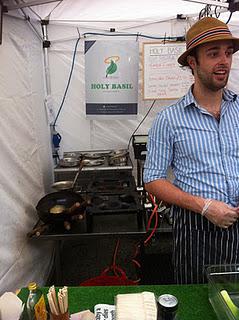 Holy Basil Thai Street View Kompany is a member of the Street Food Collective (@streetsidefood facebook.com/streetsidefood) a group who want to and are bringing street food to Manchester. The stallholder explained that there are many countries around the world with street food cultures and Britain doesn't quite seem to match up, and in particular, Manchester. There are of course the occasional burger or jacket potato stands but that's about it. Holy Basil, along with a number of other stands at the festival appear at different food events or festivals but the long term hope is to convince Manchester council to agree to some sort of opportunity to let these street sellers have a more permanent outlet for their wares.The food itself was fantastic. Very authentic - must be those lime leaves, along with the other ingredients! It was cooked to order. Even though the menu said beef masaman, we were offered either beef, chicken or vegetable (we went for the beef). The side orders were either noodles or steamed rice, and the whole thing was garnished with chilli and coriander. The curry had a lovely balance of flavours, not too hot but with enough kick, and was a beautiful texture. The rice was cooked perfectly and presented beautifully.We were told that another aim of Holy Basil is to successfully compete with the city's more usual lunchtime options such as the many sandwich shops, McDonalds or bakeries, by producing smaller snack sized options at prices which are comparable. For me this would be fantastic, as all their food (apart from the noodles) is wheat free, and it would be an easy lunchtime option rather than searching through the sandwiches, pasta salads, and pasties to find that expensive gluten-free option.
The festival is coming to an end in the next couple of days, but if you're in Manchester tomorrow, go and try out Holy Basil in Albert Square. And definitely definitely keep an eye out for them, and other Street Food Collective members events around the area.