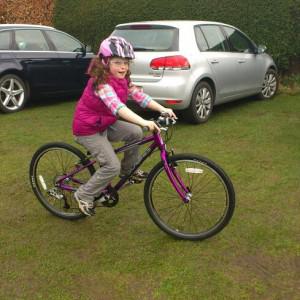 Holly has been struggling with 20 inch wheels not rolling smoothly over bumps for a while but her legs have been too small for a 24 inch wheeled bike. Luckily a growth spurt over the last couple of months has coincided with her birthday and she has taken delivery of a very purple new Beinn 24 Isla bike.
For those not in the know, Isla make 'proper' kids bikes, lightweight, kid sized adult style components and no daft cheapo suspension which never seems to work on kids bikes anyway….
Based out of Ludlow in Shropshire they even have a test track your kids can zoom around to get the feel of the right size. http://www.islabikes.co.uk/
Hopefully her next bike she will be a full sized 26 inch, so this one should keep her going for a while. Today it had its first mud splatters getting ridden around Gentleshaw, tomorrow it will do the first leg of her sportrelief challenge and next weekend its first MTBO !