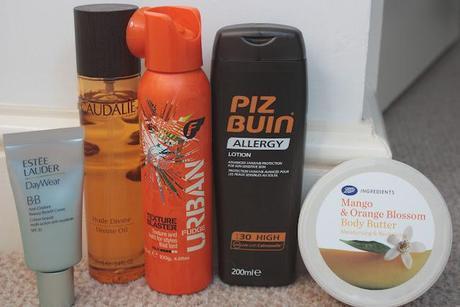 Estee Lauder DayWear BB Cream (link)
Great for when you don't want to wear foundation on holiday but still need the SPF protection. Full coverage but not too oily. Perfecto!
Caudalie Divine Oil* (link) 
This oil can be used on hair, face and body so it's perfect for adding a bit more moisture whether it's by the pool or when you're going out on the town. See review here.
Fudge Urban Texture Blaster (link)
This product, for me, is so much better than hairspray. It keeps a hold on your style all day without adding grease. It also smells like Coconut so it's a must-have on holiday. Only found at Superdrug (for all I know)..
Piz Buin Allergy Lotion SPF 30 (link)
This lotion is super for those like me suffering from heat rash. I use this and only this at the beginning of my holiday and as I get more tanned, I lay off it. It's a white cream but blends well. I buy this because it's sensible and does the job.
Mango and Orange Blossom Body Butter (link)
I really, really love this moisturiser. It smells absolutely incredible so is a must-have on holiday. Although it's not as moisturising as others, this still wins because it just smells that amazing!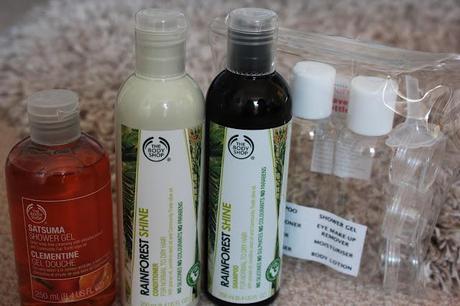 Body Shop's Satsuma Shower Gel (link)
This shower gel just smells amazing. It cleans thoroughly and I smell divine all day. Nothing more to say. I'll be emptying the contents into the plastic bottles shown.
Body Shop's Rainforest Shine Shampoo (link) and Conditioner (link)
This Shampoo and Conditioner smells like Blackcurrants and I can't wait to use these on holiday! Such a summery scent.
Primark Empty Cosmetic Bottles
I picked these up in Primark to put the shower gels and hair cleansers into. This is great to minimise size and weight of your luggage. You won't get through a whole 250ml bottle on holiday, so why take it with you? This pack came to £1! Such a bargain as you also get a little funnel and 2 different bottle head styles.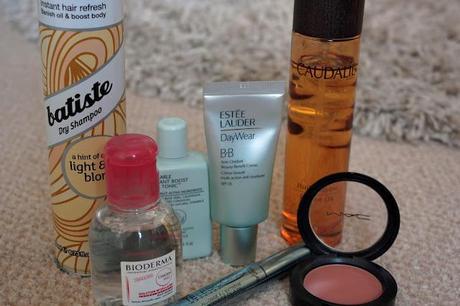 Batiste Dry Shampoo for Light and Blonde Hair (link)
This product is good for when you wake up and plan to stay by the pool all day and don't want to bother washing your hair in the morning. If you suffer from greasy hair, dry shampoo is great anyway, but this one is designed for light hair. It leaves a yellowish tint but makes hair looks super healthy and exuberant. Travel Sizes may be available but not in the Blonde addition.
Bioderma Sensibio H2o (link)
This is my favorite cleanser at the moment as it removes everything on my face so well without irritation. This is an amazing size to travel with, as you definitely won't need a full 250ml size.
Liz Earle Instant Boost Skin Tonic (link)
This is also my favorite toner at the moment as it's so gentle on my face and does a good job. I got this as a sample with my Liz Earle Cleanse and Polish but to buy this size, simply follow the link and click 'Select my Size' on one of the add-on bars and it'll be there in the list.
L'Oreal Telescopic Waterproof Mascara (link)
This is my ultimate dream of a Mascara. It holds my lashes all day so even if it wasn't Waterproof, I'd be taking this with me on holiday but for a perfect Waterproof mascara, this is it! It also lasts a long time too and doesn't get clumpy!
MAC Blusher in Gingerly (link)
Although this is a blusher, this is my best bronzer/contour at the moment. It has a subtle red but mostly makes me looked tanned when I apply this. Perfect for adding color to your tan and going out in.