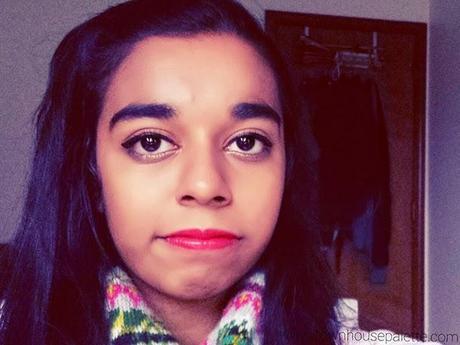 Yeah..I kind of look dead...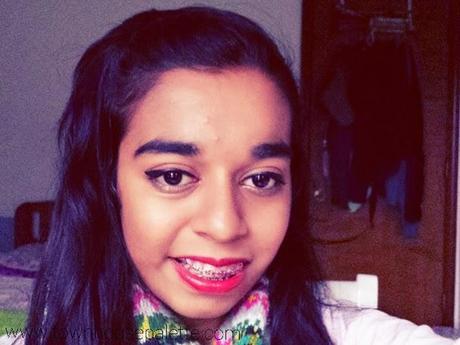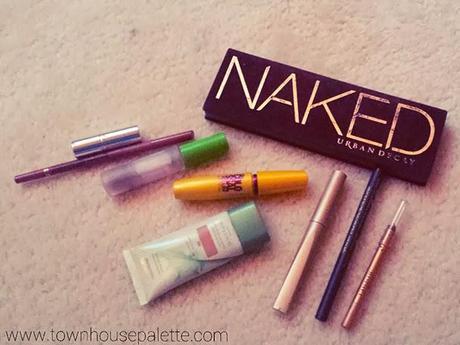 Hello 
♡ 
Today's post will be my Holiday 2013 makeup look.
  I was 
originally going to do my Fall 2013 makeup look, but I tried adding color to my bottom lash-line and it totally altered my entire Fall look. Therefore, I just went a long with it, made a few changes, and it ended up being a simple holiday look. I do also apoligize because I failed to remember to put a few extra products in the product-photo above, therefore, you can't see all the products I used. The pictures are not the best quality, sadly :( That is why I am looking forward to hopefully getting a new camera (DSLR to be exact) on my birthday, fingers crossed :)
 I used a damp, knock-off beauty blender to apply my foundation. The foundation was enough to cover up the two blemishes, so no need for concealer. I also did an airbrush using my phone's editing software you can read about here. I also used a light coral blush ( not pictured ) and applied it lightly to my cheeks. Then I did a contour with a very light coverage foundation which is a darker shade of my current skin tone. At the moment I am not into the lit-up look, so I skipped on the highlighters. I did a basic eyeliner with the bottom lash-line lined with a sparkly gold. Then a bright red lip, though the camera filter makes it look more pink.
Products Used:
Covergirl Natureluxe foundation in 'Suede' + Lancome Tient Miracle in 'Bisque (6) Warm'
Maybelline Dream Foam/Mousse in 'Honey Beige'
Maybelline Fit Me blush in 'Medium Coral'
L'Oreal Lineur Intense in 'Black Mica'
Marabella Felt tip eyeliner 
Rimmel Stars Gold Eyeliner (very old)
'Half-Baked' from the Naked Palette
Maybelline Clear and Colossal Mascaras
Too Face Perfect Lips Lip Liner in 'Perfect Spice'
Clinique Lipstick in 'Party-Red'
I was really excited for this post because it was my first ever makeup post. I am trying to get more comfortable with showing my makeup looks on my blog. I will try to get my Fall makeup look next week using my most raved lip product you can see here.p.s- I know I suck at taking selfies...
Whats your go-to holiday look?

Twitter |
We Heart It
| Tumblr | Instagram |
Pinterest